When we talk about all of the benefits remote work offers us as teams and individuals, it can be easy to gloss over the challenges of working remotely. Embracing remote culture requires conscious and deliberate effort. You can't just say, "Yeah it's cool if you work from home" and expect everyone to stay connected and happy with their work.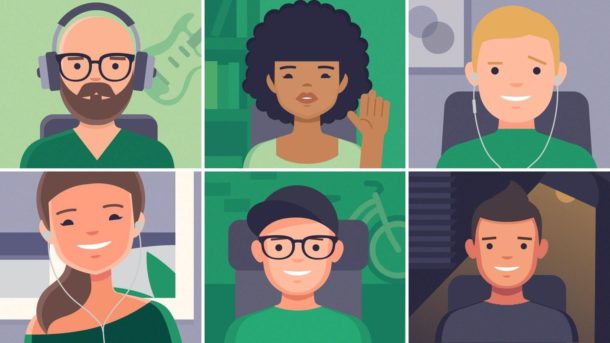 When you share a building it's easy to include new people into your culture, but how do you build togetherness into remote teams? You can't hack to solve for geography, but you can create structure to help keep everyone involved in company culture.
Embracing remote culture requires conscious and deliberate effort. You can't just say, "Yeah it's cool if you work from home" and expect everyone to stay connected and happy with their work.
At Wildbit, we add an extra layer of complexity to this question because a little under half of our team works from WildbitHQ in Philadelphia. How do we foster togetherness with everyone in Philadelphia without excluding our remote team? When everyone at WildbitHQ is sitting down for lunch, our team in Europe has signed off for the day, and our West Coast team is just getting started with their day.
Here are a few things we make a deliberate effort to do so we stick together as a team.
Retreat
Our company retreats are the most important way we bond everyone together. We've talked about how we plan retreats, and I want to share something Jeremy said about his experience on our latest retreat instead of recapping all the reasons we invest so heavily in spending time together. Here's Jeremy describing his experience,
Before the retreat, I felt like I didn't know everyone that well, and then I met everyone and it turns out I did know them well. There were zero surprises. The 'remote personalities' were true to the 'face-to-face personalities.' I left feeling like my relationship with each person was much stronger because we had more of a shared understanding of who I was.
Sharing on Slack
When you share a physical space, small talk is normal and shared interests are a natural flow of those conversations. It can be harder to surface shared interests on a remote team, especially if you push people to focus chat on work-related topics. Our team uses Slack channels as a way to create space for common interests and keep our work related channels focused on our products.
Ashley brought this up and said, "We have tons of Slack channels that are cool to check out for non-work related stuff. For example, the coffee channel is a personal favorite." Here are our shared interest Slack channels:
music
books
coffee
wildbit-flying-club
fun-math-problems
bikes
When we can, we've also started to use video calls instead of 1-to-1 messages. It usually doesn't take much longer, and it gives us the opportunity to catch up face-to-face.
Slack is also where we celebrate milestones like birthdays and work anniversaries. It'd be nice to share cake but celebrating these together help us mark special occasions and encourage each other.
Asynchronous communication
Working across time zones is a challenge, especially if you only document work and projects in real-time. To prevent this problem our team organizes and records projects in Basecamp and sends email for direct communication when someone is offline or focused. Matt told me that sharing on Basecamp "means I don't miss out on important conversations despite being in a different timezone."
We've used different tools to manage our projects over the years and devote a big chunk of our retreat conversations to improving our communication process. It takes a lot of time and thought to make this work for distributed teams, but the payoff is everyone stays in touch and aware of the projects and conversations related to their roles.
Animals
Everyone gets an animal portrait to celebrate their first anniversary with Wildbit. These pictures are something Chris and Natalie started doing for the team in 2013, and we call the gallery our family portrait. Each illustration is shared with the team and joins the other portraits at WildbitHQ. We all come together on Basecamp and Slack to celebrate when we unveil a new one. As of last week, we have 23 different animals on display.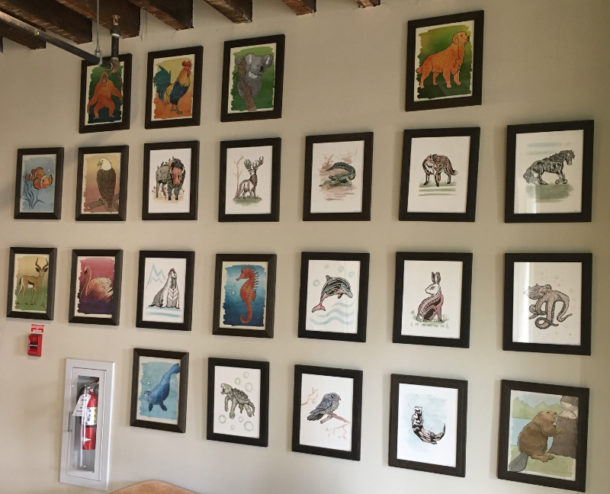 Going to Philly
WildbitHQ is a beautiful place to work, and our remote team can fly to Philly to work from there as needed. There's no set policy around when we can go. Sometimes a small group of us might gather for an intense week of planning and meetings, like when our Customer Success team got together for a retreat last year. Other times one of us might want to work from Philly for a week just to be around the team there.
No matter when we go to Philly, it's nice being able to claim a private office for a few days and to see the team at WildbitHQ. Having a spot we can gather without all the planning of our annual retreat is a tremendous benefit we get from having WildbitHQ.
Care packages
Most days, I sort through my mail and recycle all the junk and set aside my bills. Then there are those special days where I get a package with a postmark from Philadelphia. When I see one of those, I immediately set down everything else and open that package first. Sometimes it's useful stuff like business cards and other days it's something special just for the team, like our Wildbit hoodies. It's a small thing in the big scheme of everything we do, and it goes a long way to helping our remote team stay connected.
Trying new things
Thursday are yoga days at WildbitHQ. Julie sent an email to the team this week asking if anyone who works remotely wanted to join everyone in the office via a livestream. It's entirely optional for everyone, offering to include the remote team chips away at those little barriers between our remote and office teams.
Consistency and iteration
Wildbit will always be a place where any of us can work remotely. Where we work isn't as important as the quality of work we produce. It's in the roots of who we are, that's not going to change. What will change is the way we stay connected. On our next retreat, we'll talk about ways we can improve how we communicate and how we include everyone in as many things as possible.
We've been inspired seeing how other remote teams stay bonded over time zones and big distances and wanted to share a few of the things that help us stay connected. The stuff we share here may not be practical for your team today, and they may not always be practical for us. One of our key values is that Wildbit exists to support the team and that means we adapt and improve how we work together on a consistent basis.