I've been in a support role for over half a decade. Over that time, I've learned how powerful the words you use are when helping someone. The words one uses has a significant impact when letting someone know a problem is fixed (or isn't).
So often ambiguity slips into support replies. It's important to cut through this uncertainty and provide clear answers when helping someone. When answering a question, you don't want to create more questions. This means being a detective to research a support case to provide a clear answer.

Providing clear answers means avoiding ambiguous words that slip into our vocabulary. Avoid words like: probably, should, could, may, etc.
These words don't provide clear answers. They weaken our message when speaking to someone. Think about which of the following replies you'd like to receive:
"Awesome! Your issue should be resolved now."
"Awesome! I checked your account, and your Dashboard is now displaying correctly. Can you verify that as well?"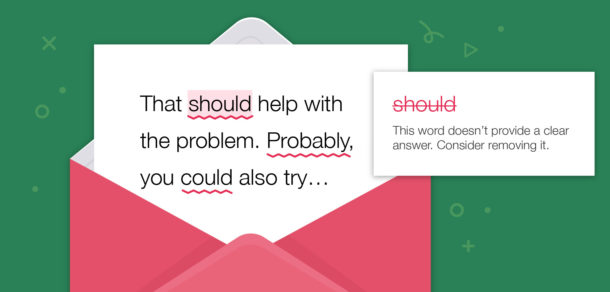 Along with clarity, go the extra mile to test if something works as you expect. Have accounts of services you integrate with to provide up-to-date screenshots and ensure what you say to a customer is correct.
Language without ambiguity is also necessary during outages. An update of "Everything should be sorted out" doesn't inspire confidence that everything is okay. Be clear, be honest, and provide information when a full resolution will be confirmed.
With all this in mind, when you don't have the answer, let the customer know. It's okay not to know. Troubleshooting often involves best-effort and guesses. In these situations, be the light in the dark alley. Be transparent on what you're doing to resolve the issue. By letting the customer know if you're researching the issue or have a hypothesis it lets them know your thinking without introducing doubt.
When you aren't sure of the answer, phrase suggestions as questions. Providing many paths to a resolution in your reply helps if you need someone to test a solution. For example, "Can you try to reset your browser cache? If that doesn't work, please try private browsing mode."
Skip the waffling and doubt. Provide clear answers, and assure customers when their issue is resolved.