This piece was originally emailed to Wildbit's mailing list on March 30, 2022.
Hello, friend.

At our March all-hands meeting a few weeks ago, the team talked about feeling like we're right back where we were in 2020: in a moment of incredible anxiety and doomscrolling, with co-workers, families, and friends who are directly impacted by what's going on, and none of us knowing what the world will look like next.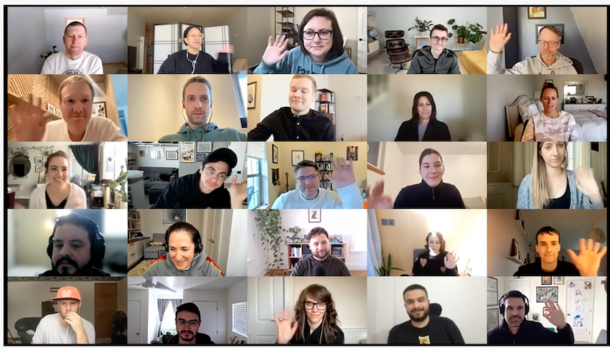 As people-first leaders, it's our job to guide our teams through moments of crisis, even when the situation feels helpless. If team members are affected by a current event, it's our job to be mindful and care deeply. If team members express the desire to help, it's our job to find organizations we can support, financially and otherwise.

And it's also our job to lead by example and remind everyone to take it easy and be kind to others and themselves.

At the meeting, I shared how I'd argued with my therapist for ten minutes after she told me to stop doomscrolling. She eventually had to say "Enough!" for me to see the larger point: at times like these, we need to seek good news and find ways to share moments of happiness with one another.

For us, that happened as we celebrated two team members who are leaving (one of them after 14 years!) to fulfill their lifelong dreams outside of Wildbit. While it's bittersweet to see them go, the joy of seeing two people we care about go out in the world to do something they love has been hard to contain.

Keep finding moments like this to celebrate with your team. Doing it feels very important, right now.
PS: 20+ years of people-first resources 📚
We've published a lot of things since starting Wildbit in 2000, and recently collected a selection of our best work in our new Wildbit library. If you are looking for help or inspiration, we hope you'll find some of it useful.
With 💚
Natalie & the team at Wildbit