This piece was originally emailed to Wildbit's mailing list on January 26, 2022.
Hello friends,
Company founders and leaders have the power to create spaces where our people can do their best work. It's our job to ask deep questions and think carefully about what 'work' is and how it should fit into the rest of our and our teams' lives.
Back in 2017, when Wildbit decided to experiment with a 4-day workweek, we didn't just cut a day from our schedule: we chose to fully shake up the way we thought about work. We'd learned that knowledge workers can only do about 4 hours of focused work per day, so we asked ourselves: if we buckled down and got some really thoughtful, meaningful work done, could we work less?
I know how this may sound. As a society, we are used to linking hard work to being virtuous and having a solid work ethic, whereas seeking to work less can be perceived as laziness. But we saw an opportunity to practice deep work and refocus on the quality of work we delivered rather than the number of hours we worked.
What started as a small experiment has now become a central part of who we are as a company. For us, deep work results in better decision making, better prioritization, and better results.
__________________________________
A few months ago, Rand Fishkin (CEO and Founder at SparkToro) wrote an article about hustle culture and chill work, which he defined as "an appreciation for the fulfillment and rewards of high-quality work, but never letting work intensity overwhelm the rest of life."
Rand's perspective felt familiar to Wildbit: it's how we feel about deep work. So we decided to invite Rand over to have an open conversation about how we're both using deep work and chill work to grow our respective companies—and we'd love for you to join us.
The date is February 9th, and the place is wherever you are.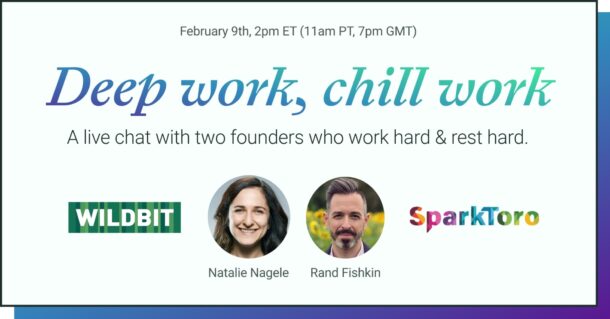 Some of the things I'm excited to cover include:
Our respective definitions of deep work and chill work
What reasonable workloads & pace look like
Whether chill work and deep work can scale—and what their downsides may be
But we'll also answer YOUR questions. You'll find more info on the sign-up page.

We hope to see you there 💚
Natalie and the team @ Wildbit