For the last 20 years, we've considered ourselves a remote company. During that time we've gone from fully remote to hybrid with offices in Russia and Philadelphia, before eventually returning to our remote roots again.
Like most remote-first companies, when the pandemic hit last year and the world plunged into remote work, we had a general feeling that "We've got this." We knew that how we work, communicate, and support each other wouldn't change; we excel at deep work and async communication. And while we were not prepared for the emotional toll it brought us, overall we were correct: we stayed productive, created flexibility, and made it through.

But with that said, something has been missing.
What most people don't realize is that remote-first is held together by infrequent but hugely powerful in-person meetings. To be more direct: I don't think remote-first works without in-person retreats and gatherings. Retreats are the glue that bonds us together as a team.
Natalie and I have continued to run Wildbit because of the people we work with: to creatively solve challenging problems together, to share experiences together, and to gain new perspectives together. And if I think back to the last 20 years of Wildbit, some of the most memorable experiences took place on retreats.
Since 2007, we've consistently had a retreat every year, and a few times even twice a year. As a remote-first company, we have to make space for these connections in person: remote communication, whether asynchronous and synchronous, just isn't enough on its own. Remote-first companies still need the little moments of connection, the shared energy, and the sense of belonging that happen when we just sit around chairs and talk, get to know each other, and support each other both personally and at work.

During the pandemic, I've heard a lot about how to do remote properly, especially from pioneers who have been practicing remote work for many years; what I have not heard is how the lack of in-person retreats has impacted, negatively, on remote teams.
Our last retreat was more than two years ago. I have not seen most of the team since then. There are about ten new people I've never even met. And I can say with confidence that this has had an impact ​​on the entire team's morale, motivation, and feeling of connection to each other and the purpose behind our work.

It's not surprising that we've all been through an emotional roller coaster - questioning our expertise, our purpose, our place. Without the connection of our family, our friends, and in this case, our coworkers, we tend to question "why" we are doing this at all. This is a time when I need and miss the team most.
In the tech industry, we tend to toot our own horns about how great we are; how we have everything figured out. I saw a lot of this early on in the pandemic with remote work. What we can't forget is that we're all still human: we crave in-person interaction, no matter how introverted we claim to be. And remote-first, in my experience, can't work without those in-person interactions.
With a global team, we're still not quite ready for a retreat in 2021 or even early 2022; each country, and each person, is at a different state of readiness to re-enter the world. Instead of a full company retreat, we're scheduling mini-retreats where small regional or functional groups can get together. I just returned from our leadership retreat in Park City, Utah where nine of us got together to plan Q4. It was so refreshing to hang out with the team casually and feed off each other's energy.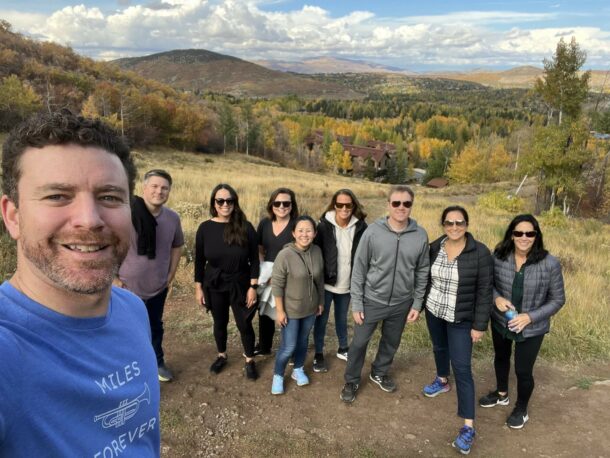 It's not the same as a full retreat, but it's a start. And at this point, we'll take whatever we can get!