Almost two years ago, we announced that we were going to launch a new kind of job board, People-First Jobs, focused on helping job seekers find companies who put people first.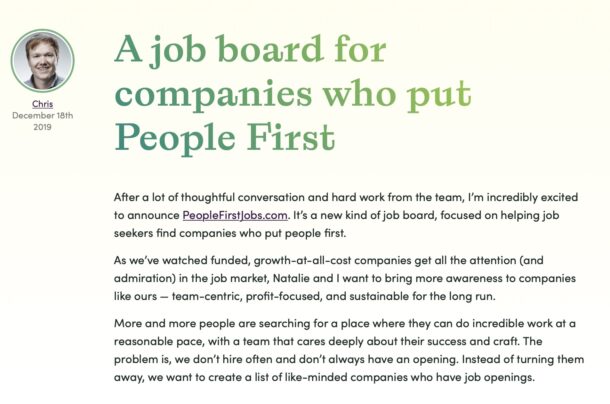 Then the pandemic happened.
At first, we hesitated: the job board was ready to be shared with the world, but we didn't want to feed off the crisis or add to an environment of stress and uncertainty.
Later, when it became obvious that the landscape of financial stress, layoffs, and hiring freezes was leading people to hang onto jobs they were unhappy in, we realized that People-First Jobs could make a meaningful contribution by highlighting the people-centric companies that were still hiring. So we launched as a free platform in April 2020.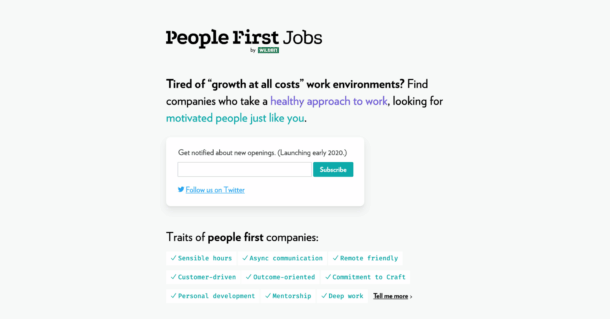 Flash-forward to October 2021. The economy is re-stabilizing, but something different is happening: instead of staying in roles that make them unhappy, workers are quitting jobs in unprecedented numbers, and companies are struggling to find talent to replace them.

Things that used to be differentiators, like remote work, are now commonplace. In a candidate's market, companies have to do more to draw in workers than just list cool perks: they need to prove that they put people at the center of their culture.
At Wildbit, we want to inspire more companies to be people first. Of course, there's no one right way to run a people-first company—it will look different to everyone. But if we can inspire companies to have a healthier approach to business that supports their employees, that influence will ripple out to people's local communities and ultimately make a bigger impact on the world.

And almost 18 months in, we've learned a lot from running People-First Jobs. The board has evolved into a paid platform, and we continue to iterate and improve it to connect the companies looking for value-aligned candidates with job seekers looking for companies where they can thrive.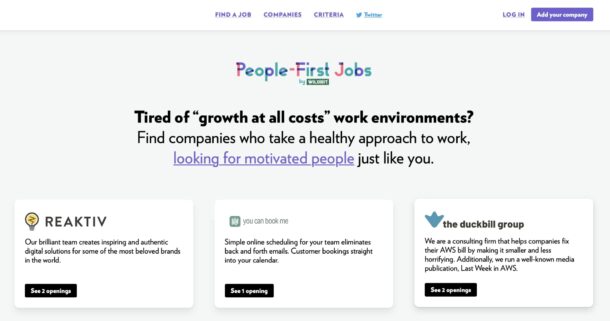 I want to share my learning from the last 18 months with you. If you are interested in learning more about treating your team well (even if you've never heard the term 'people first') or you are a job seeker who wants to find a people-first company and a more fulfilling career, this is for you.
What do job seekers want and need today?
Over the last year, I've had dozens of conversations with job seekers to find out what's most important to them.

Most of the people I talk to are already employed, but they also seem to always keep their eyes open for a job that will enable them to be the best version of themselves. They want to be more in control of their workday and more engaged in their career. So they're more selective in the companies they apply to.
1. Candidates want an accurate picture of company culture
The most important thing for job seekers when considering a position is an understanding of a company's culture. They want to see personal value alignment and benefits that support their needs, as well as a clear picture of what day-to-day life at a company looks like.

How we are addressing this need with PFJ: companies on People-First Jobs are vetted and have a company profile so candidates can determine if a company is a good culture fit.

The vetting process is robust. We ask companies to speak to a list of criteria that cover various aspects of company culture like diversity and inclusion, schedule flexibility, and remote work options. Companies aren't required to fulfill all of these, or even in a particular way. There's no rulebook as far as people-first work environments are concerned. We're all figuring it out as we go. But these criteria generally indicate a people-first ethos.

When a company joins the platform, its profile reflects the criteria we cover. So job seekers know we've done the vetting process for them, and they can get a clear sense of what it's like to work at a company.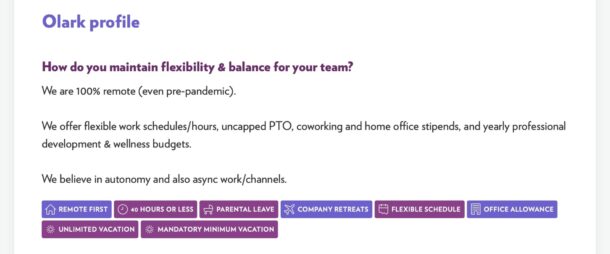 2. Job seekers expect companies to challenge work culture norms
The people looking to People-First Jobs for their next gig care deeply about work culture and know it'll be tough to sift through LinkedIn or Indeed to get what they want. They expect their next company to adopt a modern way of doing things that puts people at the forefront.

How we are addressing this need with PFJ: we make sure to invite and include companies that often experiment with new ways to be people-first. Consider some of these examples:

Here at Wildbit, we've been experimenting with reducing the power imbalance in the hiring process. In a job search, it often feels like all the authority and power lies with the employer, who holds the key to a candidate's financial security as well as unwritten expectations that didn't make it into the job description.

When we hired a new marketing manager earlier this year, our head of marketing, Justine, experimented with new ways to extend our people-first approach to everyone who pours their time and energy into their job applications. She used a public flowchart, a "living FAQ," and meaningful dialogue to create a better experience on both sides.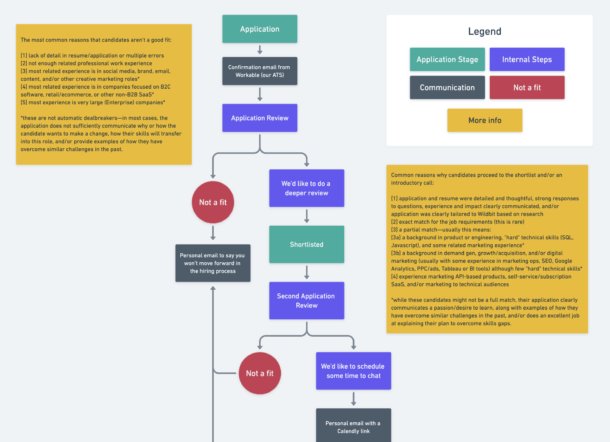 Ultimately, it was a lot more upfront work, but it gave more balance to both sides and resulted in a more efficient and effective hiring process. And we believe it's better in the long run for everyone involved.

It's these kinds of changes that job seekers expect to see from their ideal company. On People-First Jobs, we want to encourage companies on their journeys to being more people first. Of course, we can't enforce anything, but we hope to influence how companies hire and retain employees by setting examples and providing resources over time.
3. Applicants care about salary equity and transparency
Another topic that comes up when I'm talking to job seekers is salary transparency. Job seekers feel it's a waste of time for both sides to go through an intensive hiring process just to get to the end and have very different salary expectations.

How we are addressing this need with PFJ: very simply, we have an optional field for companies to indicate salary ranges in the job description. That single line can tell someone a lot about the expected seniority of the role and whether it meets their expectations. Then applicants can self-select out if it's not worth their time.

Beyond the job board, some of the PFJ companies are experimenting with salary transparency:
There's no one way to compensate employees well, but as companies experiment with different approaches to support their teams, like-minded candidates will flock to them.
Want to hear more about the companies on People-First Jobs? Sign up for our email list to learn more!
People-First Jobs makes it easier to hire and retain value-aligned talent
Replacing an employee is incredibly expensive. Considering the costs of lost productivity without a team member, missed opportunities, and resources spent looking for candidates and onboarding a new hire, it can cost companies anywhere from 30–50% of an employee's salary for entry-level roles to 400% for highly skilled jobs. So it's essential to do what you can to hire the right people from the start and implement people-centric policies to retain them.

In our experience so far, People-First Jobs has acted as a platform to get better candidates, raise public perception, and build community with like-minded companies.
1. Access to intentional job seekers
The unique approach of People-First Jobs benefits both sides of the audience. Yes, job seekers benefit from working for companies that have a healthier approach to work. But employers also get higher quality applicants from People-First Jobs.

Many job seekers that come to People-First Jobs aren't looking for just another job: they're looking for a chance to be the best version of themselves. They care about value alignment. So they're also often loyal employees once they find the right fit. And long-term employment is better for everyone.
2. Learning from other companies
Being people-first isn't easy. It's a commitment that guides every department, policy, and action. Every employee needs to live out that philosophy—and company leadership needs to set examples and provide resources for success.

For companies, People-First Jobs is not just a job board. It's a community of like-minded companies tackling the same challenges. If we can collaborate on solving these problems, we can work together to develop better companies that are better to work at.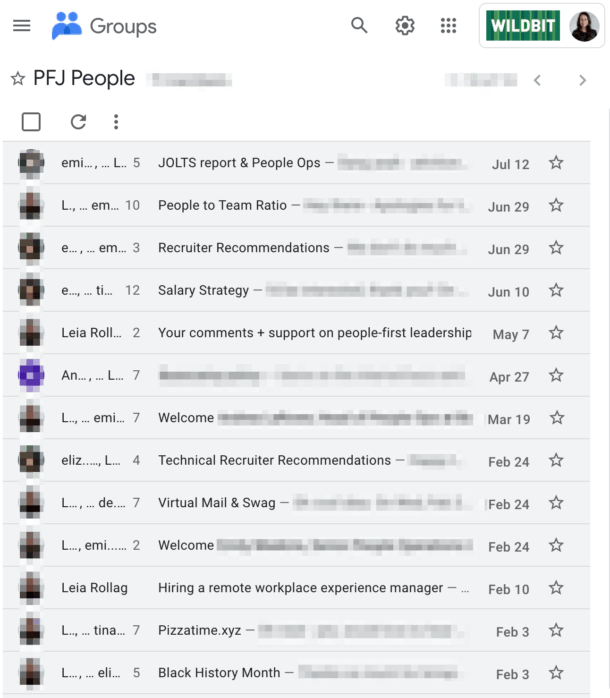 Right now, the community aspect is informal, but we're considering how we can make it a more official part of the membership so companies can connect more easily.

3. Gaining positive public perception
Being recognized as a great place to work draws in both candidates and customers. One Forbes writer says she flies Southwest Airlines because she knows employees are happy. I've also stopped using products when I hear about bad work culture (excuse me while I go cancel my Amazon Prime account).

Companies already display badges of recognition, such as from Great Place to Work. Being on People-First Jobs surrounded by other great companies validates that a company's list of benefits isn't just talk.

Some companies already display their People-First Jobs membership on their Careers pages, and we'll likely offer badges at some point.

Want to see your company here? Tell us more about your team and how you put your people first!
We're in a unique time
Employees have burned out more than ever over the last year and a half. Women are leaving the workforce because childcare options are less available than they were before the pandemic. Situations such as this have put us on a faster trajectory for the creation of more remote-first companies and more human companies.

Employees need the support of their companies to live sustainable lives. The more we can create people-first cultures, the better off we're all going to be.

---
Interested in hearing more about these companies and their job openings? Sign up for our email list to learn more!