Eugene convinced me, I made the move to Mac. I never really thought I would, but now that I have I am glad I did. I went out and bought the 24" iMac. At this point it was much easier compared to a few years ago. These days I mostly use email, browsers, IM, and the normal entertainment applications. Any software that I need is readily available on the Mac without much effort to transfer.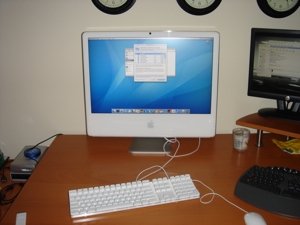 The transfer went very well. Not because of Mac tools or anything else, it really had to do with with web-based services that I rely on. Here are some of the things that made it easy.
Foldershare: I love this tool. I easily synced all of my files (music, photos, documents, etc) based on libraries I already had setup in FolderShare for my laptop.
Exchange: I use Exchange from DSLExtreme to sync my T-Mobile MDA with Outlook. Since I already had this setup I was able to easily setup the exchange account in Mail or Entourage (Entourage is better for Exchange) then automatically sync those items with iCal and Address Book.
Google Browser Sync: This one I just found, but it is amazing. It is a plugin for Firefox that syncs all history, saved passwords, bookmarks, etc between all of your Firefox instances on many computers. I just installed it and all of my settings were there.
Adium: This is a great IM tool for Mac OS X. I am usually on Yahoo IM, but this works very well on most services.
Everything else: Most of my other daily tools are on the web. Basecamp for projects, Typepad for blogging, Google Reader for RSS, and so on.
There were some things that did not go as smooth as I expected. For instance, my Dell 3010cn Laser printer is classified as a "paperweight" in any other system than Windows. Fortunately Dell decided to exchange it for the 3100 free of charge. I was very impressed.
Now, on to the things that I really love about this OS and the Hardware. I have the iMac, so everything is so well integrated. No wires, boxes, or anything else to clutter up my office. It's a great feeling to have a clean desk. The iSight camera is not only built into the monitor, but into the applications as well. This makes it easy to create photos for IM and profiles. So far my favorite application is PhotoBooth. Other than that some great tools are Spotlight and Expose. I'm anxious to see what Leopard has to offer with Spaces.
All of this happened over the weekend. I even went out this week and bought a MacBook for traveling. I'm officially converted, but I still have my PC next to me :) If anyone has some suggestions about tools or tricks, I'd love to hear them.