By any measure, 2020 has been a challenging year. Many people from locations around the globe are experiencing greater levels of stress and anxiety. After all, many of us work at home while supporting school-age children, caregiving for family, navigating civil unrest, responding to extreme weather conditions, and more.
In the United States, that reality may also mean the upcoming election weighs more heavily than usual. We realize this will not have the same effect on companies based in other parts of the world. But as an American company, we wanted to share our thinking and encourage US-based companies (as well as non-US companies with American team members) to recognize the impact the election may have.
In light of that, the leadership team here at Wildbit has been thinking a lot about how to support the team through this time. Not just on Election Day, November 3rd, but starting now, through to election week, and to the end of any events that arise from the results of the election.
We started by asking ourselves:
Our teams may need time off to vote or want the space to engage with election news during the first week of November; is it best to avoid meetings and deadlines that week?
Social channels and inboxes may provide an important source of election news; should companies show respect through a pledge to stay 'media and marketing silent'?
If protests break out, especially in cities where remote employees are located, what will our response be?
If our teams take time off to vote, do we anticipate delays in customer service responses?
As we did when considering how companies can support parents through COVID, we'd like to share what we're doing on this front and share some examples from other people-first companies.
What Wildbit is doing
Although many US companies provide time off from work to vote, people may need a greater level of support. Team members may feel the need to be more involved than usual in this 2020 election, whether that means canvassing, holding letter-writing parties, doing research to develop a voting plan, volunteering at the polls, or just taking extra time to encourage civic engagement with family and friends.
These activities expend an emotional toll and can affect team morale, especially if individuals feel unable to process their feelings while balancing work commitments. People-first companies can take steps to give their team space and time and encourage people to process their thoughts while maintaining focus and productivity.
Here at Wildbit, our leadership took a similar approach to handling COVID-19 this year. The first step was to set expectations. Leia Rollag, our Head of People, shared what our team would be doing well in advance of the election.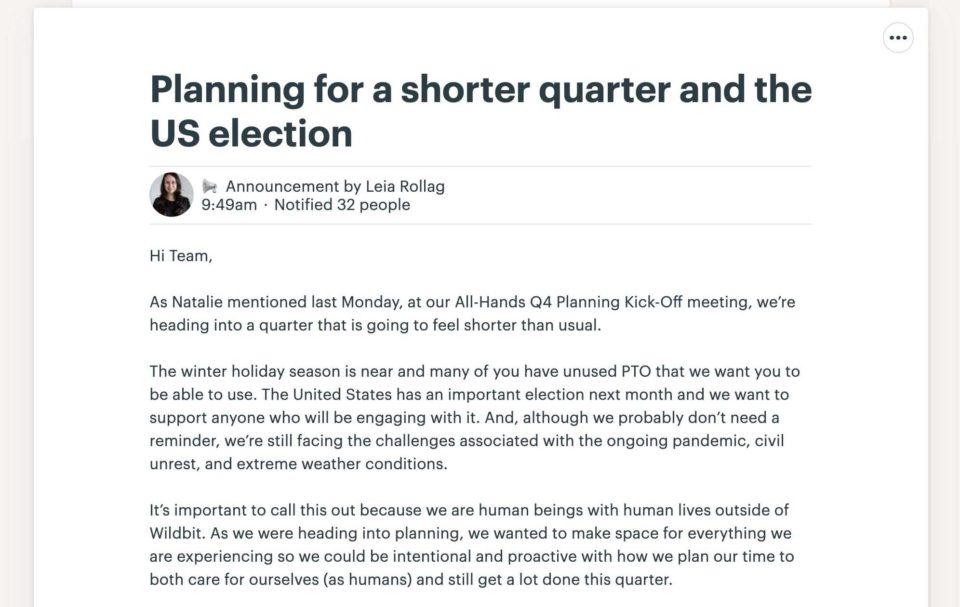 Outlined in the memo, Leia shared all the ways Wildbit would support our team over the entire quarter. And the first step was recognizing the impact the election would have on our team over the quarter. Between the election and holidays, we'll be focusing our work in 8–9 weeks out of the 13 total weeks in our Q4.
For the week of the election, we will not have any launches or promotional marketing. We will be "media silent" as a company, giving our team members time and space to express themselves however they see fit. This is simply out of respect—we don't need or want to add to the noise.
We're also communicating that team members should take time off as needed. Time off to vote does not count toward PTO (check your state laws; some say that employers may not require employees to use personal leave or vacation time for the time off necessary to vote), but our team can use PTO to get involved leading up to the election or to recuperate after it's over.
And we encourage our team members to make the most of the resources available to them. A big piece of that is using mental health services!
Last, we've created a Slack channel to give team members safe space to talk about civic engagement experiences. It's important that, although we're separated from each other physically, our team can still spend time interacting with one another about the issues that matter to them.
You can read the full version of the memo here.
Other people-first companies
We reached out to some of the member companies on People-First Jobs, asking how they're supporting their teams at this time. Here are a few examples.
Nick Francis, CEO of Help Scout, was acting on this very early on. Along with giving the team two extra "self-care" days for the quarter, they're also doing the following:
Encouraging people to join Civic Alliance, a non-partisan group of 300+ businesses working together to build a future where everyone participates in shaping our country.
Asking employees to partner with Vote Forward to write letters to get out the vote. Help Scout is hosting a letter-writing party, covering the cost of stamps, and making sure people can take time off to engage.
Matching donations to the Voter Participation Center, who is committed to engaging underrepresented folks who represent 64% of the electorate.
Nicole Nesman, VP of People at Animalz, shared how their team is approaching this upcoming month. She started by sharing why it's essential to take a proactive approach:
The lead-up and outcome of this election is unprecedented in our history, and the impact it will have on our employees, no matter what their political view, is causing stress and fear. Particularly those who stand to lose civil rights due to gender identity and sexual orientation and non-white employees who are feeling personally attacked by current rhetoric and policy decisions. What is the best way to support them right now and in the lead up to/outcome of the election?
And so they have several items to undertake before the election takes place:
Publish an internal memo which announces time off to vote and encourages the team to:

Use their voice and exercise their right to vote
Remind the team of voter registration deadlines
Provide time off to employees participating in any form of civic duty pre or post-November 3rd, e.g., voting, volunteering, protesting, community activity, etc.
November 3rd is designated a "No Meetings Day"

Remind employees about the support available to them through their Employee Assistance Program, specifically access to mental health resources such as confidential counseling.
Provide a forum for people to process and talk together both pre and post-election.
Host an informal all-hands on November 4th to help the team process post-election emotions and support each other.
And once the election is complete, they have follow-up plans in place:

Provide a Slack channel for smaller-group processing and reflection on results
Equip managers with tools to support their teams

Address in weekly lead meeting and ensure we're asking what resources are needed during 1x1s with mid-level managers

Elevate our existing benefits e.g.mental health.

Provide a monthly wellness stipend that our team can spend on their favorite vendors: Calm, Talkspace, Headspace, etc.

Plan for some kind of virtual support/pick-me-up/happy distraction for the week after the election
A newer member of the People-First Jobs community, Hearken is super involved in this election. They've set up and are running election-sos (supporting journalists to provide better election coverage), so they already have a greater focus on this election season than many companies.
And they are also taking some extra measures. Their team already has five hours of flex time per week, and that number will increase for the week of November 2nd.
Liz Dunn is the Operations Lead at Knack, and she shared the internal message they are preparing to send to their team:
Hey crew, the leadership-HR bunch wanted to take the opportunity to talk about the upcoming election. First and foremost, we wanted to remind you that you're welcome and encouraged to take the time you need to vote. Also, if you're planning to volunteer or generally be away on those dates, that's okay too. Just be sure to keep your team in the loop.

Because November 3rd and 4th are likely going to be a little hectic and pretty distracting, we want to be sure we're building in some extra space for all team members. To that end, we plan to:
Cancel all meetings on November 3rd and 4th—if you've scheduled calls on those days, please delete or reschedule them
Reschedule any project deadlines set for either of those days
Let our customers know that they might experience delayed support responses on those days
Not release any outward-facing content on those days
Additionally, if you're struggling to focus during the week of November 2nd, please feel free to as many breaks as you need. Also, feel free to talk to me, your team lead, or one another. We want to steer clear of divisive conversations and keep Knack a safe space for individuals with varying ideologies, but that doesn't mean we can't be supportive of one another. Want to chat more? My (metaphorical) door is always open.
The team at Customer.io is also taking steps to help reduce stress and anxiety for their team. Heather Choy, their People Operations Manager, shared some of the things they're doing in the coming weeks.
This year we made Election Day a paid holiday! While we have always been a people-first company that supports flexible scheduling and don't need our team members to request time off to vote, we decided to make the entire day a holiday. This lets folks work the polls, volunteer to drive people to the polls, or contribute in any way that works for them, their family, or their local community. We also provide links in our handbook so that everyone could register to vote and/or confirm that they are registered to vote with their current address, along with voter registration deadlines, etc.

We purchased "vote masks" - a little gift for our team members, purchased on Etsy, and supporting a BIPOC owned business.

In addition, we know that everything happening in 2020 has been stressful, and we continue to look for ways to support our team members. We signed up for Modern Health, which supports our global team members through free coaching, therapy, and digital mental health resources on a wide range of personal and work-related topics (including election stress or anxiety). Our leadership coach will conduct another company-wide session on managing stress at our next virtual retreat in late October. And through our Donut / LifeLabs Allyship in Action, we've been talking about allyship, the election, and other current events in small-group, confidential open dialogue sessions that meet 1x a month. Also, we tend to have Slack chatter based on current events, and when people are stressed out, we encourage them to take a mental health break and step away from the news if possible.
---
It's important to recognize that a lot of companies feel that anything they might do is inadequate. Even the people contributing to this post were apologetic in their responses to our inquiries — it seems like most people are unsure how to best support their team members. But merely recognizing the situation is stressful, and acknowledging it in front of your team goes a long way.
As with our post about supporting parents in COVID-19, there is a lot of similarity in each company's actions. And for a good reason: the best approach companies can take is to recognize the impact of the moment, give their teams space and permission to experience it, and support them through those experiences.