The last few months have already been challenging for working parents. Many employees have been simultaneously trying to juggle a full–time job while caring for school-aged children. And as many communities announce back to school plans, families are navigating difficult choices alongside the near-certainty that the coronavirus is likely to continue disrupting daily life for at least several more months.
As a parent with four children, I can speak to these issues, along with feeling:
The pressure of two significant areas of responsibility
The lack of any summer camps this year
Overwhelmed and unsure where to start each day
Like you're operating as a less-than-ideal team member and a terrible parent
If you're feeling similarly, know that you're not alone!

How companies can help
Smart companies with a people-first mentality recognize that healthy, happy employees result in a better bottom line. That bottom line may include revenue and profits, but also customer satisfaction and team performance. The more you can empower your employees and provide a fulfilling environment, the better off your company will be.
With that in mind, we wanted to share how the companies included on People-First Jobs are helping the parents on their team. Throughout the examples they shared, some common themes emerged.
People-first companies:
Create space for conversation and reflection, even when you don't have all the answers
Assume the best intention of your team members and help create psychologically safe spaces to facilitate conversation.
Recognize that caregiving has many forms: employees may be parents, step-parents, separated or blended families, or caring for aging parents of their own
Acknowledge that this is not "business as usual". Wearing multiple hats as parents, employees, teachers, partners, and caregivers will be messy.
Commit to flexibility in how you support your team and adapt to new challenges. Everyone manages stress differently and may respond or compartmentalize in different ways.
Beyond these guidelines, each company shared some specific examples as well.
Wildbit
When news hit that some US cities would be keeping schools closed until at least November, Wildbit CEO Natalie Nagele quickly shared an update with our team.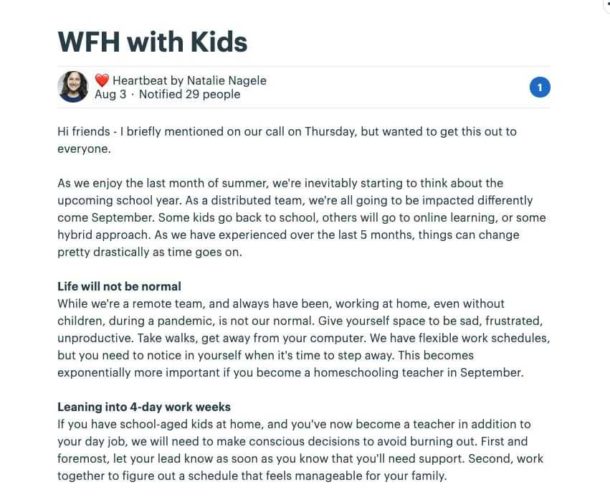 Nothing leads to frustration like uncertainty, so instead of letting us wonder what the fall would look like, Natalie immediately identified the impact and set expectations. Hearing leadership acknowledge that life will not be normal eased some of the anxiety that parents were feeling. It also freed up mental space that may have been distracted by worrying about school and its impact on work.
On a personal note, here are a few ways Wildbit has made my life easier during this pandemic:
4 day work weeks. Since 2017, we've worked four days per week. Most of us are "in the office" Monday through Thursday, enjoying the benefits of a 3-day weekend. Every week! This allows my wife and me to structure our work schedules so there are only two days of the week where both of us are working
Asynchronous tools and processes. While we use Slack, our default communication method is async. This allows me to know what's happening and provide input on our various projects and initiatives, but on my time
Flexibility and control of my schedule. On that note, we're also free to set our own schedules. If our kids have an appointment, I can structure my day around it. If we're having one of those days and I just need to go for a walk or take a nap, I can make up time later
Customer.io
We also talked to the Customer.io team. CEO Colin Nederkoorn shared that he and his wife, parents of two young children themselves, lost their access to childcare. That prompted him to share this with their team back in March of this year: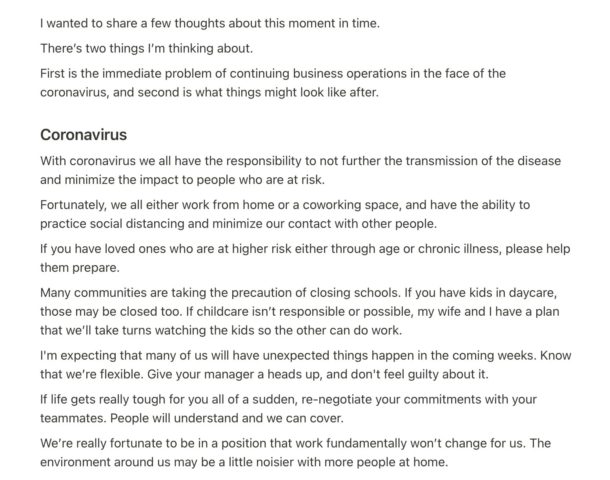 The most significant first step is for leadership to acknowledge the reality of the situation and encourage everyone to do what they need to maintain a healthy outlook. The second step is for a leadership team to follow up with practical ways to help. Here's how Colin describes their follow up in the weeks after March:
As COVID-lockdown dragged on, we also noticed that people were feeling stressed but weren't taking vacation days to recover since they were stuck at home. We added 2 company-wide vacation days in May, 2 in June, and 1 in July. I noticed a big difference in my mental health and the general mood of others.
Nothing provides more support than seeing your executiveslead by example with these kinds of initiatives. It's the opposite of the hustle mentality that has pervaded our industry for too long. Customer.io also supports parents, as well as the rest of their staff, through:
Unlimited paid sick leave when a dependent is ill, or caregivers are without childcare.
Inviting mental health professionals to speak with their team via Zoom about the struggles around working from home during COVID-19, and parenting during the global pandemic.
A Slack channel for parents to have a community of fellow caregivers on the team and to provide support. They share experiences, frustrations, funny stories, and resources.
Sending spare laptops to parents on the team for distance/remote learning or homeschooling.
Encouraging managers to ask how employees are managing stress and non-work responsibilities during weekly 1:1s.
Doist
Another team that takes balance seriously, Doist, has written about how hard it is to be a remote employee and a working parent. Their survival guide is a couple of years old, but it was ahead of its time, providing the kind of advice that most parents could put to use once COVID-19 became a household name across the globe.
Brenna Loury, who wrote the guide, sums up the challenge:
… as I've discovered over the past year, being a parent is hard regardless. Being a working parent is really hard. Working remotely at home with kids is — you guessed it — also really damn hard.
Here are a few ways the Doist team tries to make this really damn hard role a little easier:
Flexible scheduling: like at Wildbit, Doist team members are 100% free to set their schedule in a way that fits their family best
Family-friendly meetings: when needed, kids will be present on a call. But more importantly, video calls are as short and efficient as possible because of thorough preparation ahead of time.
Luckily, we try and make sure meetings are as efficient as possible by prepping everything in a Todoist project prior to the call. Using the marketing team as an example, every team member has a specific "One-on-One" project which is divided by things to discuss and action items. This way, we know exactly what's on the schedule and what needs to get done after each meeting has concluded.
The guide closes with helpful tools and techniques to help remote working parents be as productive as possible.
Knack
The Knack team is remote-first and globally distributed, so they were ahead of the game when it came to changes forced by the COVID pandemic. But having flexibility in your schedule does not take away the stress of managing your job and family at the same time. Team member Jeremy well articulates this truth:
For employees to be productive wherever, you need to allow them to be productive whenever. Flexibility in space demands flexibility in time.
The Knack team shared their ideas on approaching this unique time in human history in Parenting: How to Make Working From Home Work for Everyone. Here's an excerpt:
All humor aside, we are in unprecedented times. Parenting your kids is a tough job in general, and when faced with life's stresses and unusual events, it can become even harder. The key is knowing it's ok. Know that it's ok if goldfish make it on the lunch menu. Know that it's ok if toddlers have to attend the Zoom meeting with you. Know that work may not get done until after everyone has gone to bed. Know that it's ok to take a mental health break in the middle of the day. And more importantly, know that you are not alone.
Whether it's parental leave or asynchronous communication, supporting fellow teammates or your own family, it's crucial to approach work with the right mindset. Recognizing this truth and stating it for your team members is incredibly enabling.


Promptworks
Not every company had a robust remote work culture in place before COVID-19. Some teams had to make changes on the fly. Kristy Humes, the Director of Operations at Promptworks, shared how their team adapted to the changes in March:
Our team was able to pivot to working remotely fairly easily, we've been able to utilize intermittent FFCRA leave for our working parents, and we're successfully navigating more flexible schedules and encouraging people to take time as they need it. When we first transitioned, we arranged for weekly management meetings and consistent individual check-ins to determine how the team was coping, and how we could best support their needs. While the first few weeks were somewhat chaotic, our team showed incredible resilience and acclimated quickly. We continue to check-in and update the team at our weekly company news. We're focused on continuing to encourage compassion and elevating our empathy in our responses with each other.
It's important to see companies emphasize that there's nothing ordinary about the "new normal." Indeed, as the months stretch on, it will be increasingly important for companies to check in with their team members.
Boldly
Boldy was built on a foundation of remote-first principles, providing a subscription service for remote staff.
And yet, they're the first to admit that even with the advantages remote work offers, the current work environment for parents (and everyone else) is not easy. From their stay-at-home working guide for parents and managers:
As a remote-first company, clients, partners, and friends have been coming to us for advice about remote work for themselves and their newly-remote teams. And while yes, Boldly has been a remote company from the start, for us, this is definitely not 'business as usual'!
Their CEO, Sandra Lewis, recorded her thoughts on how important it is for leaders to advocate for work-life balance and create company cultures that help parents be present.

Help Scout
Help Scout focuses heavily on diversity and inclusion, so it's no surprise that they're helping the parents on their team. Julie Menge, their HR Operations Lead, shared some examples:
Around 44% of our employees are parents at Help Scout, and we're really encouraging everyone to lean into the flexibility of remote work right now. As a remote-first company (even before COVID-19!), we've always been flexible about how we go about our days, but now it's time to double down. Managers are talking with their teams and getting creative about what recurring meetings can be shifted, or even become written, asynchronous communication, to accommodate parents who are teaching kiddos at home. Since we have folks in time zones all over the world, there is no easy fix to do something like having everyone setting up a "no-meetings block" on their calendars at a certain time. So, each team is empowered to do what works best for them.
In addition to changing the team's expectations and the structure of some meetings, the Help Scout team took steps to gain access to FFCRA so US-based team members could have some paid time off. And, where needed, some team members simply worked a reduced schedule.
---
The implicit thread running throughout these examples is that people-first companies trust their team members to do what is right, what is needed, and grant them the freedom over how to do their jobs.
Along with a balance between one's work and the rest of life, people long for autonomy and trust from their employers. This is always true—not only during a global pandemic. Flexibility with your location, hours, and schedule was the highest priority for job seekers in our survey earlier this year.
Providing autonomy and trust can feel uncomfortable, but this is not a matter of getting everything perfect.
Your people are worth it.