Two weeks ago we moved into our new office. Usually this would be a big post, bragging about all the cool details of our space, and the thought that went into it. Instead, it's a shift in the opposite direction. We're downsizing. Not our team, but our physical presence and our team's attachment to a physical space.

Why would we downsize?
Four years ago we moved into a beautiful building in Old City Philadelphia. We had the opportunity to design what we always dreamed of – private offices, bright and open, team lunches, community meetups. About a third of the team resided in Philadelphia, so it made sense to have a home base.
While we've always had a remote-first mentality for process and communication, we planned to hire more people in Philadelphia. As time went on, the opposite happened. We hired more remote team members, and some people who lived in the city moved out of the city. As this trend continued, our 10,000 sqft office went from 13 people down to six. You can imagine the dip in energy.
For the better part of 2019 the office was quiet. We noticed people came in less and worked at home more often. The value of the office was wearing off and in a way, it was having a negative effect on the team in Philadelphia. People starting wondering: Do I have to come in? If no one else is there, should I stay home? Or, I just don't feel motivated at the office.
After several months of this, we knew it was time for a new approach.
Rethinking the HQ

As Natalie and I reflected on what to do next, we came up with three priorities:

Remote-first: The new office will be treated as transient space. Show up if you want, or if you're in town, but there is no expectation to be there.
Renewed energy: An office is about renewing energy. Not just for the Philadelphia team, but team members who come into town to visit.
Low maintenance: Managing an office is a lot of work. If we don't need it as a company, we should not be spending time on it.
The obvious choice was a coworking space. It will provide the energy and require little to no maintenance. However, we write and speak a lot about the importance of focus work, and we despised the fishbowl environments that most coworking offers.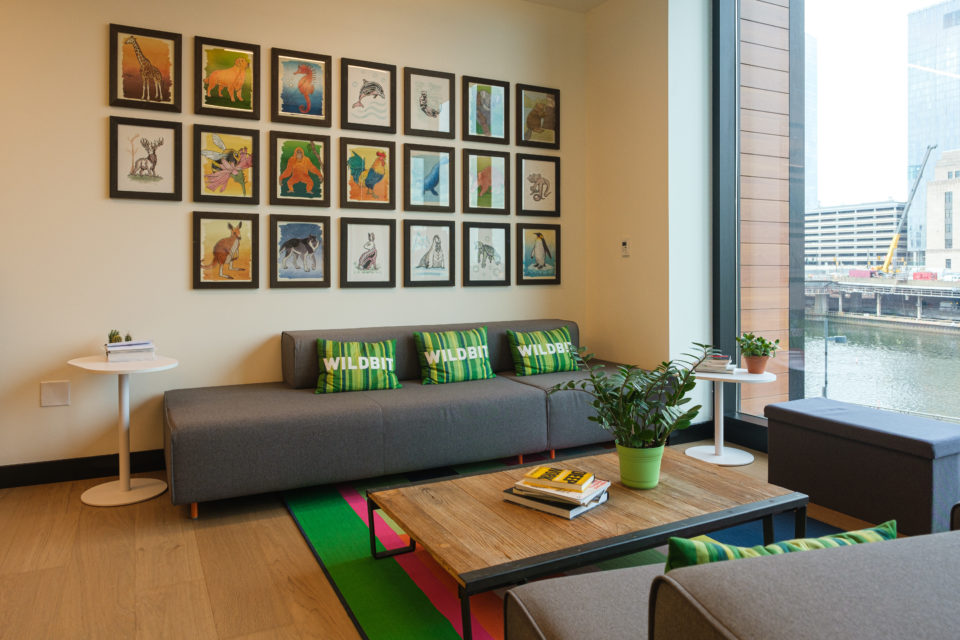 We landed on a hybrid approach. A purpose-built, closed door suite with private offices inside of an active coworking space. It's much, much smaller than our old office – going from 10,000 to 800 sqft. We have five closed door private offices, a lounge, and a work/dining table.
Immediately outside of our office is the common area, with phone booths, break-out spaces, and open seating. It provides just enough energy as you come and go for the day, but without the commotion or noise. Before if there were only two people in our office it was lonely. Now, you can be the only person here, yet when you walk in there is a lot happening. You can take a break to the snack area or common space to regroup and recharge. It's similar to why I love living in a city, where I can hide away in the comfort of my home, then take a walk and absorb the energy happening around me.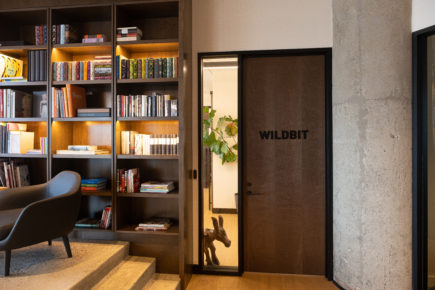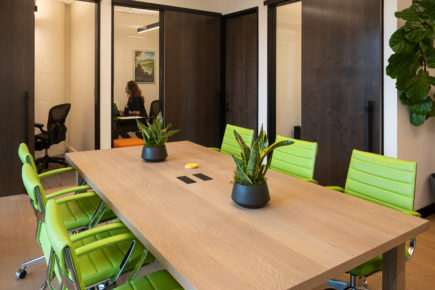 Come and go as you please
The big shift is that the new office is not an HQ. No one has a permanent desk. (Well, except for Natalie). Instead, it's there as needed, whether it's someone coming into town or a local team member who needs to get out of the house. A few weeks ago, the Conveyor team got together for a mini-retreat, so we all used the space. Next week, it might be empty. And that's ok.
While I would always prefer to work in the same office as everyone (we clearly have the most amazing team on the planet), this shift feels like the right approach for the team as a whole. It feels like we are truly remote-first again.