We just returned from our retreat in Barcelona, Spain. It was by far one of the most fun and productive retreats we've ever had. As with every Wildbit retreat, you can expect a ton of renewed energy and releases from us really soon. I want to sum up some of the progress and goals.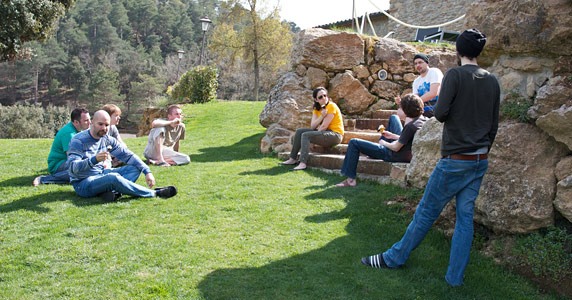 We spent the first couple of days trying to get the satellite internet to work. Turns out there is a strange bandwidth limiting model that makes it useless even for minimal work. It was a bit stressful, but not having internet was a pretty interesting experiment as well. It gave us some time to detach and discuss without distractions. Probably the most amazing result was Dima completely rebuilding our deployment code for Beanstalk. More on that later.
Exploring Spain
We stayed in an amazing villa called El Munt, which is in the small town Castelltercol, about one hour outside of Barcelona. It was literally in the middle of no where. If you don't believe me, check out the ride on the road to the villa in the video near the end of this post. We spent most of the time hanging out at the villa, swimming in the indoor pool, playing ping pong and basketball or cooking on the barbeque outside. It was the most beautiful place we have stayed on a retreat! Catalonia has a lot to offer, so we made sure to spend the nights out at local restaurant for dinner. Most of our team agrees that our best meal was at Hotel Urbisol, about 40 minutes from our Villa. We also took a day trip to the Dali Museum in Figueres and to the Dali House in Portlligat.
For the last two days of the trip we decided on a change of scenery and stayed in Barcelona's Eixample neighborhood, not too far from Sagrada Familia. This gave us a unique opportunity to reach out to some of our customers in the area and organize a meet up. We met some great people and had an awesome night.
Secret projects
Before the retreat, we came up with a new idea for a retreat activity. Each person was asked to come up with a project to share with the rest of the team, but generally keep it a secret. If we didn't provide any direction or influence to each other, what would we come up with? We didn't make a big deal out of it, just something small, even if it is not that useful. On the retreat, we spent a day presenting all of the ideas. I was stunned by the results. There was everything from new ways to analyze our financial data to new features in our products and new ways to manage our infrastructure and quality. It really shows that building a company is all about hiring the right people. With a great team, amazing things just happen if you let them! I don't want to spoil what we came up with just yet, so stay tuned and keep an eye out for some nice releases.
Setting goals and plans
While we're not very strict at Wildbit about deadlines for features, each retreat we set some short and long term goals for our product roadmap and the business in general. It gives us the chance to align our growth goals with the smaller projects or features we release for customers. To keep the goals in view, the most we do is look six months into the future, which should be our next retreat. Here are some of the high level goals without making our roadmap too visible:

Remove, not just add. We're watching closely which features are being used, and which are not. We're careful about keeping our products clean and simple, which means that an opportunity to take things out is valuable because it means we can keep things simple and fast, and also make room for new things that our customers will love.
Improve communication. This goal is tri-fold. We've identified some places in our applications where language can be improved to make functions and messaging easier to understand, so we'll be working on that. We also believe strongly that Beanstalk in particular should help team members communicate better, so there's some features coming to support that. And last but certainly not least, you - our customers. We want to get to know you better, and for you to know us better, so we're going to be writing and communicating with you a lot more.
Businesses Love Beanstalk. And we want to keep it that way. We've thought hard about what benefits we can bring our business customers, and that'll be influencing some of our roadmap moving forward with Beanstalk
Major features coming to Postmark. Again, we're not going to say too much, but we've got major features in the pipeline for Postmark that we think you're going to love. We're also working on getting a tighter iteration schedule for Postmark which should let us roll out more little stuff more often. We also just released a new homepage, be sure to check that out!
Overall, this year's trip was a great time and extremely valuable for the whole team. As a special addition, Ilya shot and produced a little video that might help you feel like you were right there with us. Enjoy!