Back when I wrote about our new office and "Ending the Open Office Epidemic", our design and plans for the new space were merely architectural renderings and a mostly gutted interior. It has now become a fully realized vision and I'd love to give you a tour.
It's already been a few months since we opened the doors. We're slowly making it a home for where we work, hang out, and celebrate. It's been amazing to see the implementation come to life from the renderings that I posted earlier this year. Not only has the design stayed true, but each person is starting to make their private office a cozy place to work and retreat while at the same time discovering their favorite places to get out and take a break.
In June we had our office opening party. It was still a bit rough, but celebrating the new building with over 200 people was surreal for me and Natalie. In over 15 years running the business, this truly felt like we found a home in Old City, Philadelphia. Our goal was to make this office not just a home for our Philadelphia team, but a place that our remote team and the Philadelphia community could call home as well. Every week this is becoming more of a reality as we invite people over for lunch and fly remote team members in to work together. It's a dream come true.
Ilya was nice enough to take some shots of the finished office. While we still have some minor work to finish, most of it is complete. We just installed the private office doors on awesome barn door hardware last week. I'd like to walk you through some of the photos.
Lobby & Entrance
For anyone who has lived in Philadelphia, this building was mostly an eye sore for as long as I can remember. The landlord of the building did a fantastic job of restoring the facade, including completely custom, historically accurate windows - each spanning roughly 5 feet by 10 feet. Here is a before and after shot to give you an idea.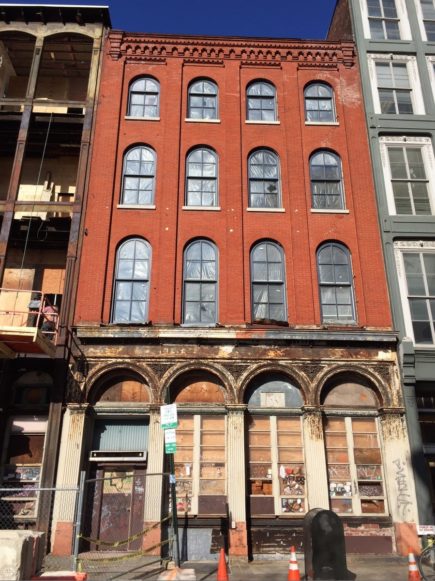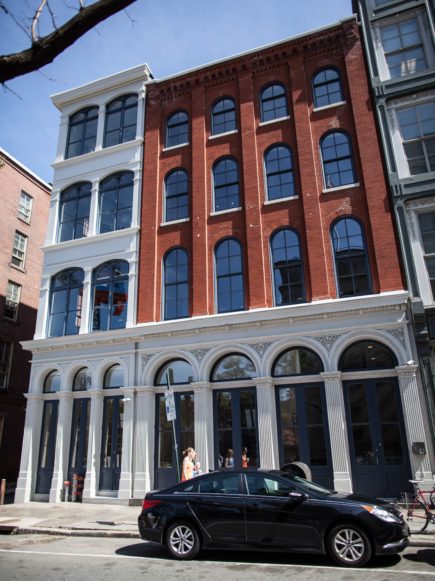 Wildbit takes most of the building aside from the street level space. This allowed us to take the entire lobby entrance of the building, giving us and our guests a dedicated entrance and elevator to our floors. Our good friend painted the lobby in diagonal stripes, a theme you will see throughout the office. Instead of going with a traditional sign, we blended a paint backdrop with a custom-made sign from Tinkering Monkey to match our logo. As you walk past it the letters just float above the stripes. We love the way it turned out.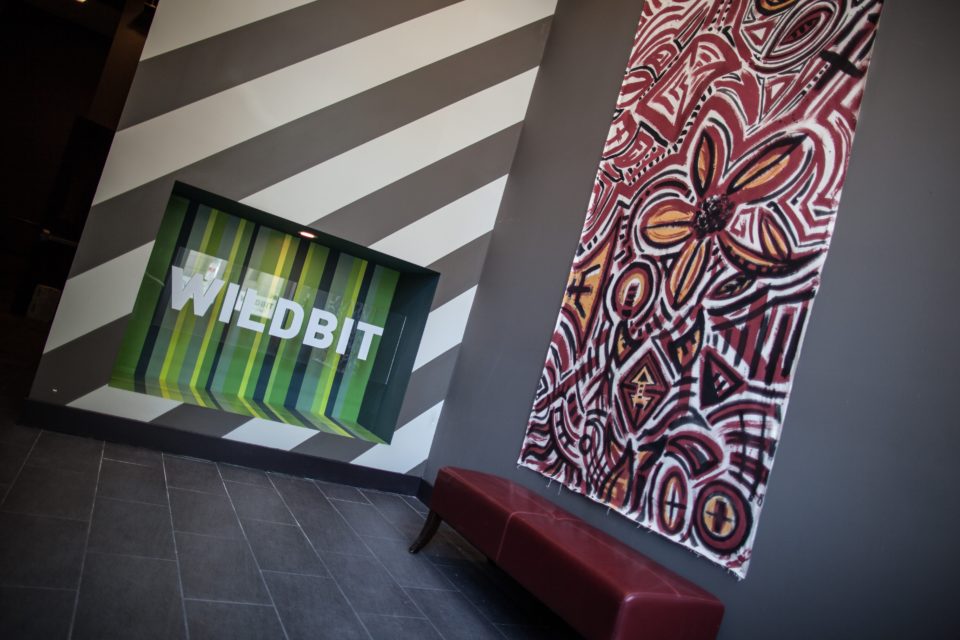 2nd Floor
As you might have noticed from the facade, the building is actually made up of two buildings. We used this separation of space to split each floor into a work area and a common area. The left side is where the private offices are aligned. The right side is where we have our common space.
While we ended up taking most of the building, there are only 12 of us in the office. We share the 2nd floor with our good friends at Flyclops.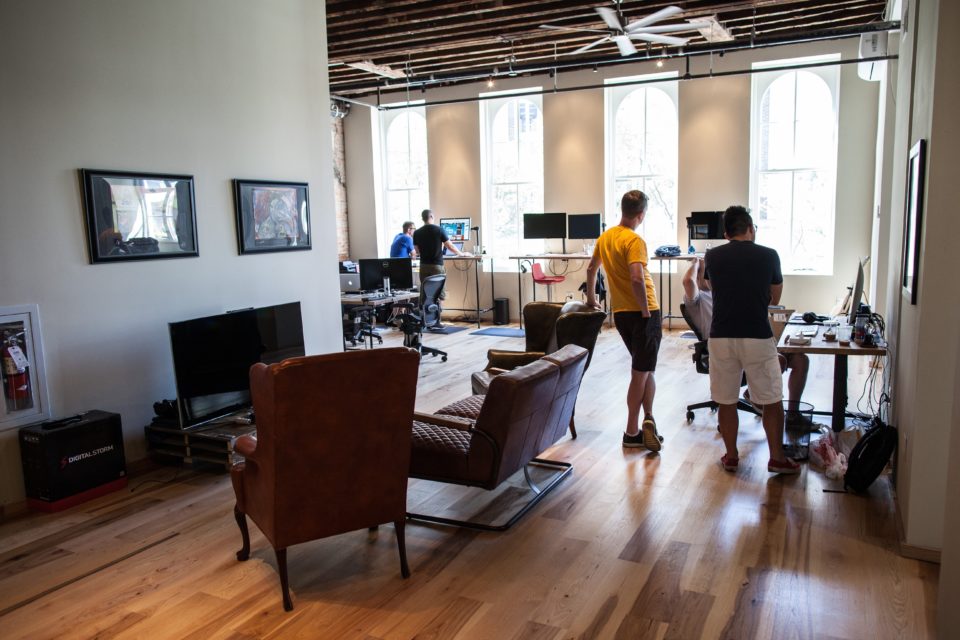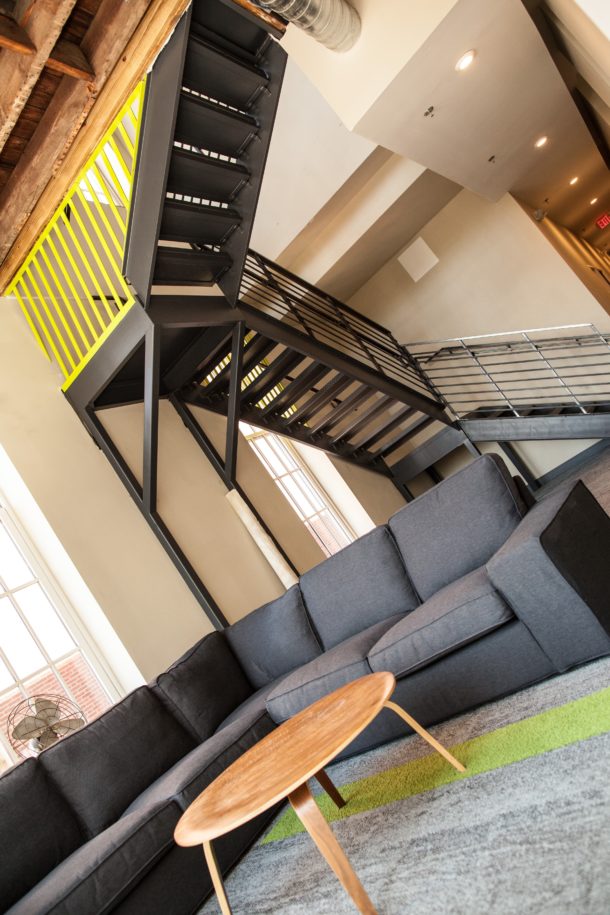 3rd Floor
The third floor is our most active area. It's where people come in first when they arrive and where our kitchen and dining area is located. We built out a full chef's kitchen to accommodate our daily chef-prepared lunches. Natalie and I are really proud of the way the Ikea kitchen turned out, especially considering how many hours we spent in that store!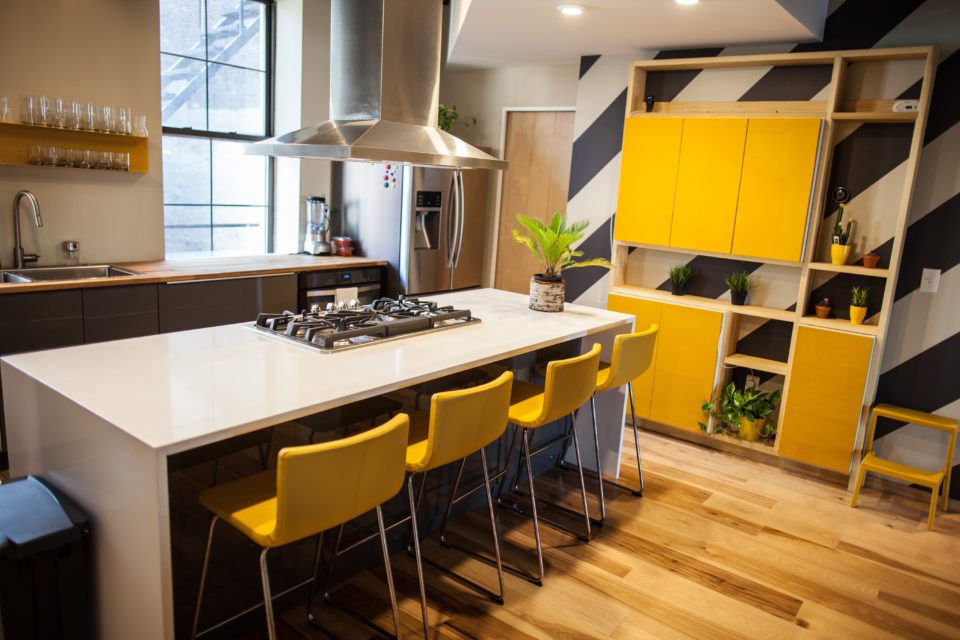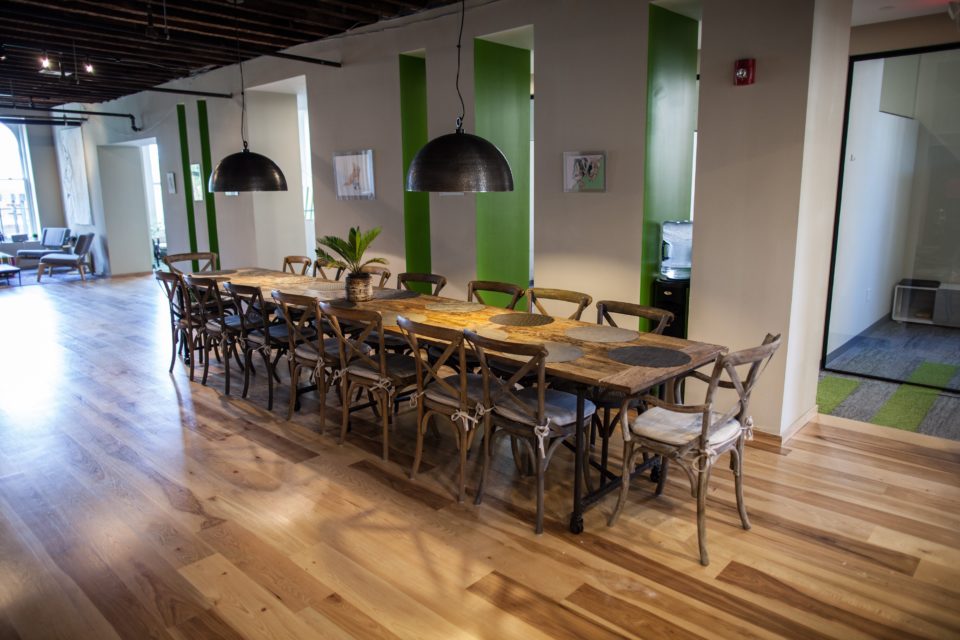 To the front of the third floor we have some casual seating where we might have some informal meetings. The feel is very rustic, laid back, and homey. On the private office side in the front we have the very large windows in front of our custom steel staircase. We splurged a bit on a Womb Chair (by Rove Concepts) to compliment the huge windows. It's a perfect spot to sit, look out at the parks in Old City, and unwind during the day.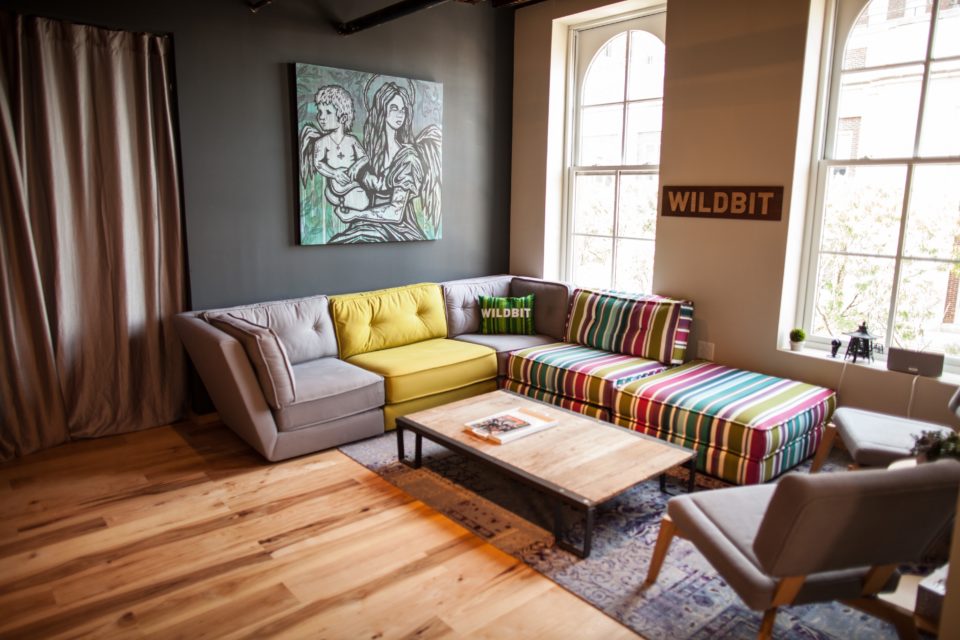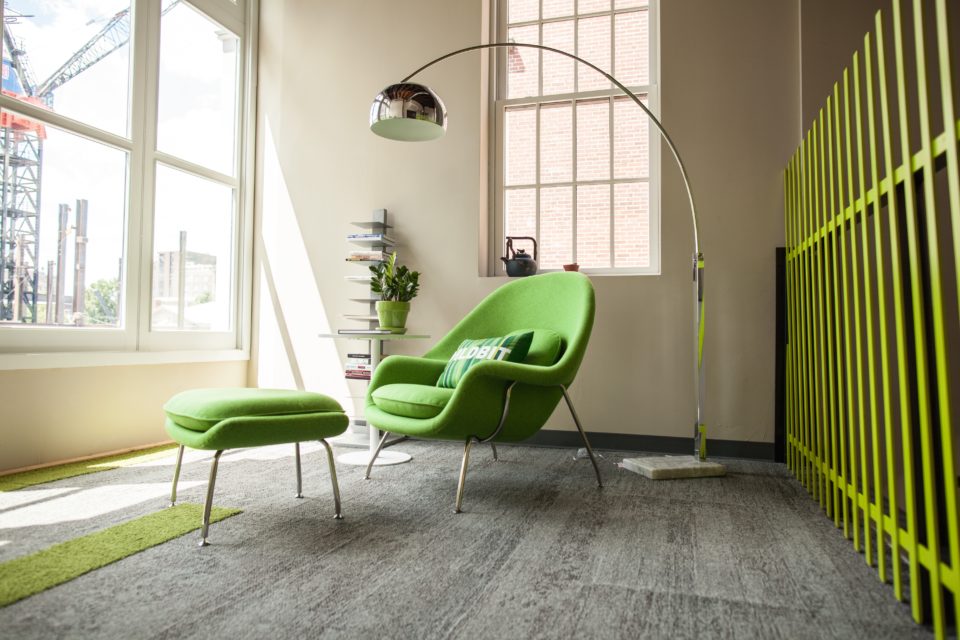 The other side (the second building) is where the private offices are located. They run along a hallway with large glass panels and transoms to let light through. We had giant custom sliding doors made from doorsandbeyond.com that roll along barn door hardware in case someone wants privacy or quiet. Each office features an Ikea standing desk (love these!), Aeron chair, and Poppin storage/seat. We also installed acoustic panels on the ceilings to help reduce echo inside of the office.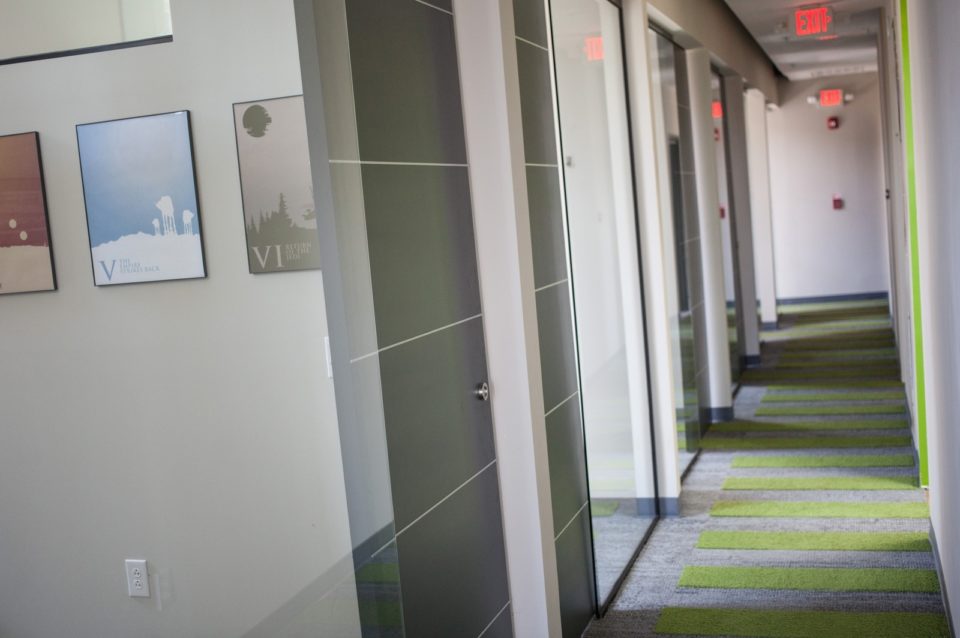 4th Floor
The fourth floor is the most dramatic area in the building. With over 20' ceilings and huge skylights, it's extremely bright and open. We use this common space for lounging and bigger meetings or video conferencing. After looking high and low for office furniture, Britt stumbled on a new line from Poppin. We did a FaceTime call with their team to see how it works and fell in love. The entire fourth floor is outfitted with their stuff. It's rigid, flexible, functional, and very comfortable at the same time.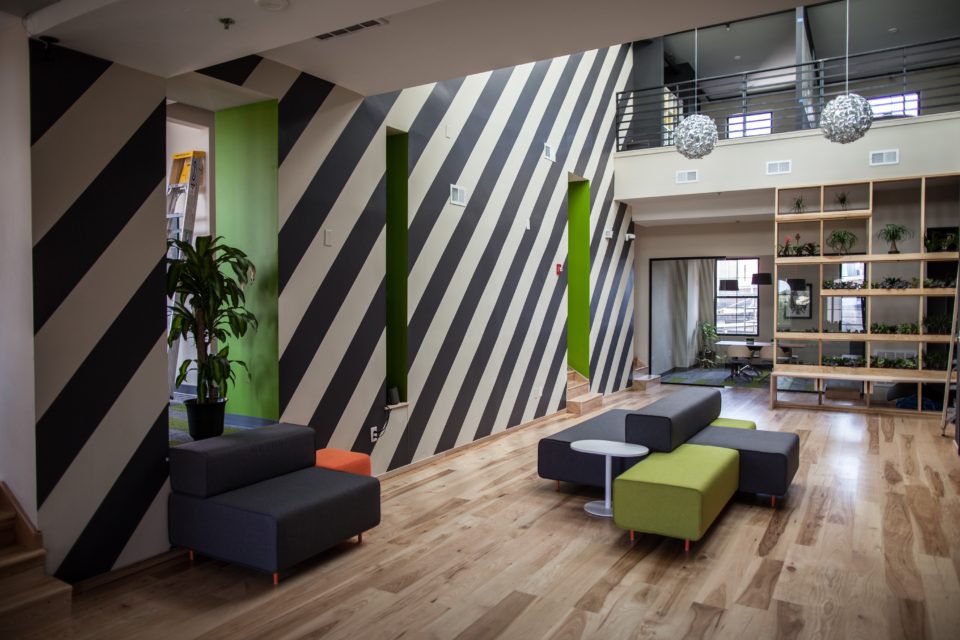 Speaking of video, this was really important to us. By building out a big HQ we had the risk of alienating our remote team. To balance this out, we want to encourage more face to face time using video. We tried Hangouts, Skype, Hipchat, Sqwiggle, and more and ended up on HighFive. Since it is a device, we installed one in each conference or break out room. It's still not perfect, but the devices have been great for quick calls with the remote team.
Toward the back of the 4th floor is a small conference room. We use this for smaller break out meetings or for temporary work space if someone drops by.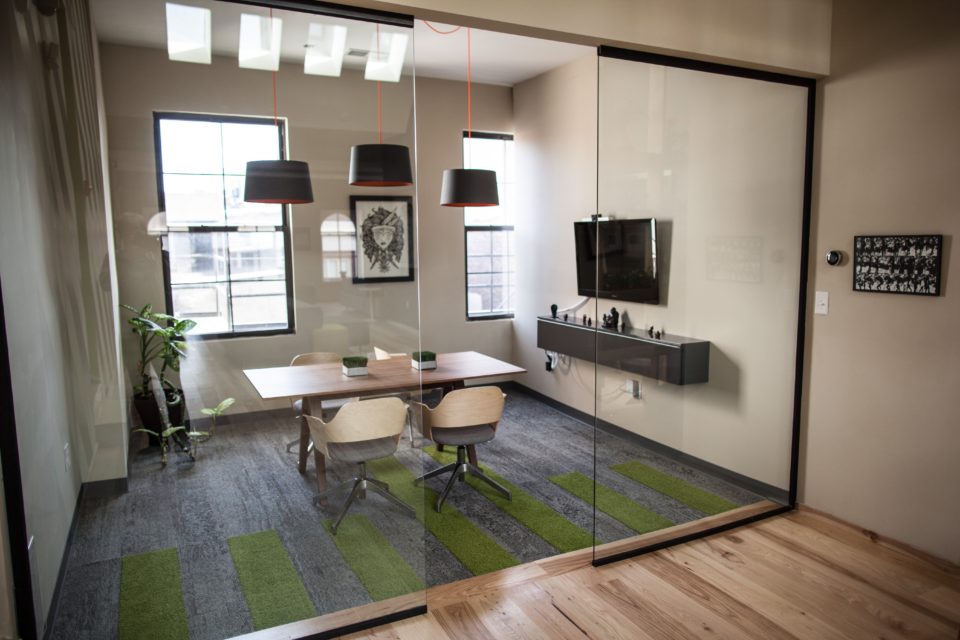 The second half mirrors the 3rd floor with private offices running down the hallway. This floor has higher ceilings which lets more light through the area.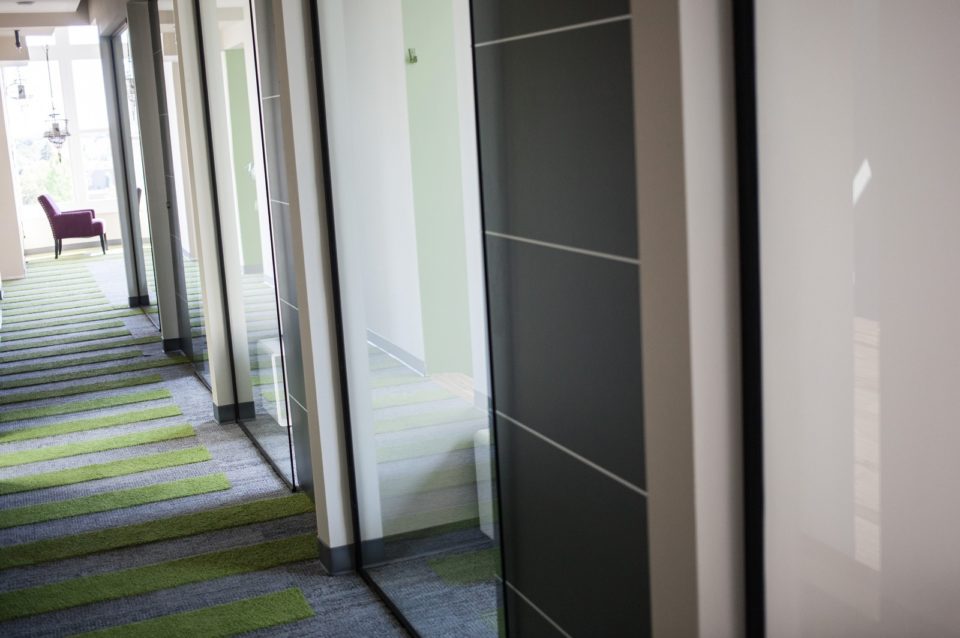 Mezzanine
The mezzanine sits on top of the 4th floor common space, looking down on to the hardwood floors and seating below. The mezz has three separate rooms. The first is used solely for swag storage, prep and shipping. The second room (below) is used as another break out room for small meetings with anyone in the office or remote. And the third, my favorite, is a kids playroom including a puppet theater. Somehow they got my iRacing simulator seat as well :)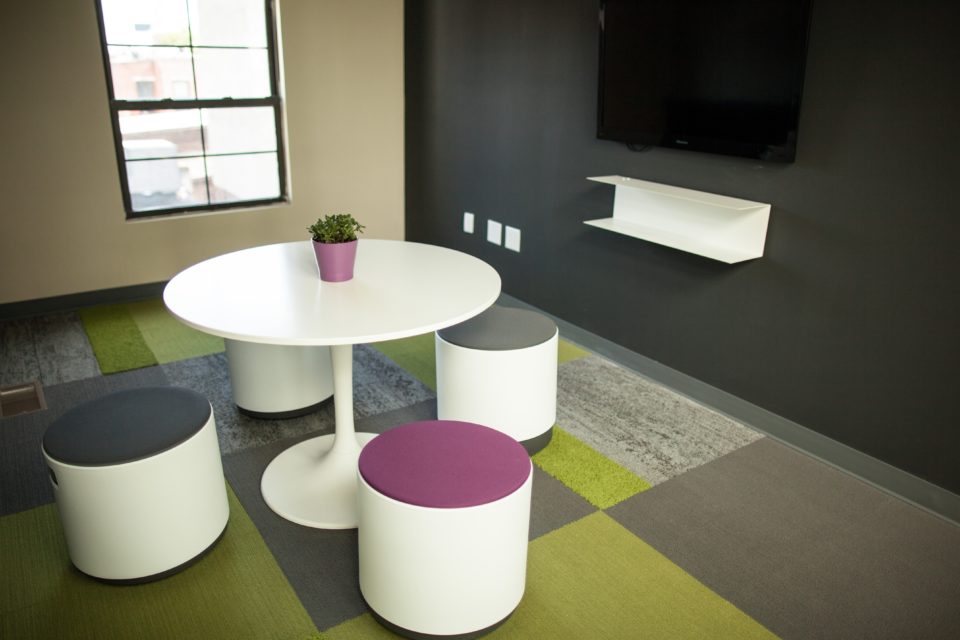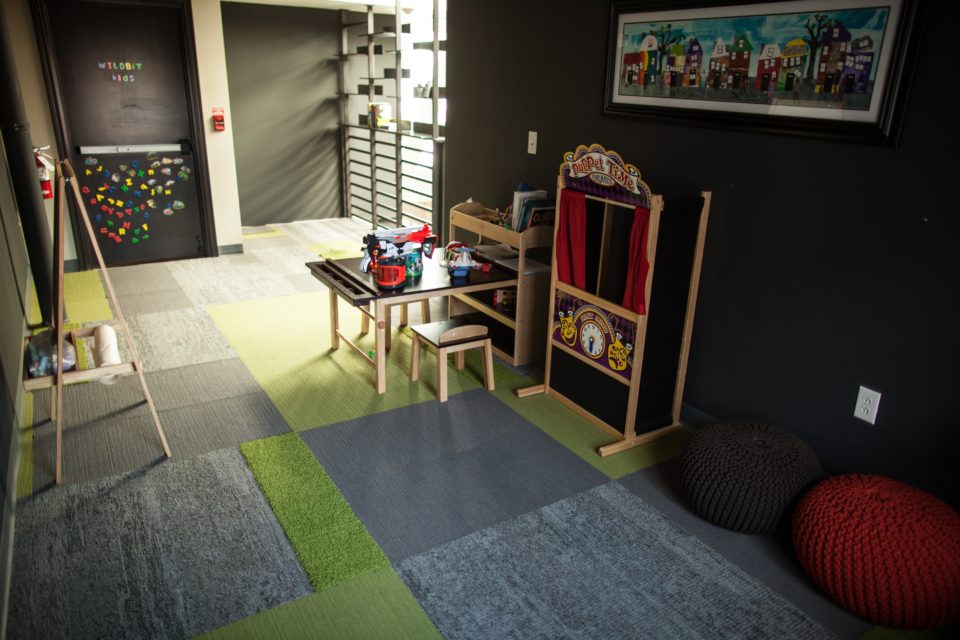 Tools, materials, and gadgets
There is a big list of vendors and products that helped bring all of this together. I mentioned a bunch above and want to list some more here. These products really made the office what it is and helped us accomplish it in an affordable way.
For instance, we were able to install LED lighting throughout the entire space by using the very affordable HALO and Cree LED lights at Home Depot. We vetted the kitchen appliances finding the best performing but cost effective options through places like The Sweet Home and Reviewed.com. And of course, Ikea saved us a ton on the kitchen and furniture such as the standing desks.
This is our space for the next 7 - 10 years. I can't wait to see what else we dream up for our products and customers as a result of the culture and space we've built together.
I'd love to hear your thoughts and questions. If you are working on your own project please share your tips!