Wildbit is better known for Beanstalk, so when it comes to connecting with customers it's become more important to strengthen the Wildbit brand. We're also a small company, so we all contribute to support. A lot of times I will get responses like "Oh wow, you're the founder and doing support!". The same happens when our lead developers or designers answer requests as well. To me though, this is natural and important. The best way to enhance a product is by understanding what your customers want and need, as well as where they have trouble. Since we all participate in communication, we want people to know more about who we are and what we do. To make Wildbit a bit more personal, we decided on a few things that could help.
Welcome pop-up
Each time a customer signs up for a Beanstalk account, we show a pretty welcome pop-up. The purpose is to say thanks and explain who is behind the product. We want people to know we're a small team and that we are motivated to make Beanstalk an amazing experience. If they contact us, they might recognize someone from the list, helping build a more personal experience.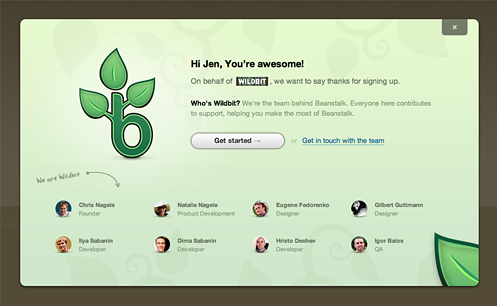 Support signatures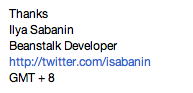 Each time we reply to a support request, we include our name, title and a link to our blog or twitter account. This makes each person more accessible to our customers and helps them understand who exactly is helping them. This way, it is not just some support person helping with a deployment issue, it is the actual person who wrote the code.
Chat support with Olark
We've always offered chat support with Campfire, but it has always been awkward. Group chat is not good for customers and Campfire has a very scary way of redirecting people when the room is closed. The experience was pretty bad. We decided we needed something more flexible and heard some great things about Olark. After our initial tests, it was amazing how valuable the tool really is. Giving customers direct chat access almost 24 hours a day is a sure way to fix problems or answer questions fast. We've also added it to our public sites to help with product questions. We've created a nice schedule so each person can contribute to chat without interfering with work.
Getting more personal
Our goal is to continue getting even more personal with our customers so they know who we are and what we do. The more connected our customers are with our team, the more they know about how dedicated we actually are to making them successful. On our retreat we discussed some ideas for redesigning our Wildbit site to highlight each team member better and explain what they do. We're also looking for some more ways to communicate directly with customers outside of the day to day support requests.
Do you run a product or site? What are some ways that you help customers connect with your team?