As I alluded to in my previous post, we've been working hard on building out our new HQ in Philadelphia. This process started about a year ago when we realized we were outgrowing our 2,200 sqft loft. When I say outgrowing I am not talking about new hires or rapid expansion. We hire slow, so it was not a growth factor. What we realized is that an open office just didn't work for us. After enough time talking about it, we started to explore what we really wanted in an office and why an open plan was counter productive. The new office gave us a chance to really justify our ideas and come up with concrete decisions on how our space should function.
Don't believe the hype
Open plan offices are all the rage today. You'll hear how they encourage collaboration, transparency and that word that people love to throw around, "serendipity." It's a magical place where things are always happening and there is an amazing energy in the room. It's motivating and inspiring. And look, even the CEO sits out here with us! At least that's what people claim. In my view, and many others, it is something completely different. Maybe a visual will help:
What it looks like: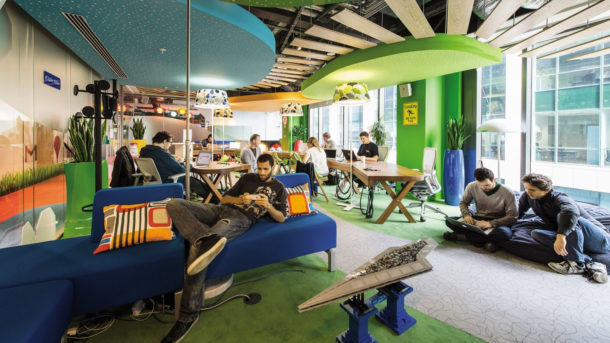 What it feels like:
The reality is, open offices are a place for distraction. So when we embarked on investing a lot of money and time into a new office, we reflected on why we wanted the exact opposite of what everyone else is doing.
The research is in (37 years ago)
One of my favorite books on management is Peopleware (written in 1987). It specifically addresses management in software, including physical space. Part III in the book has stuck with me ever since I read it in 2001. One of the best chapters covers some research that was done by IBM in 1978. The IBM researchers studied the amount of time developers spent in different work modes:

Work Mode Percent of Time
Working alone 30%
Working with one other person 50%
Working with two or more people 20%
This may lead you to think that open plan makes the most sense, but consider this part:
The significance of this table from a noise standpoint is that 30% of the time, people are noise sensitive, and the rest of the time, they are noise generators. Though those working alone are a minority at any given time, it's a mistake to ignore them because they actually do the work during the solitary periods.
When it comes to creative work, you can't just sit down and quickly solve a task. You need time to get into the mindset, gather your thoughts, and start thinking about a solution. You have to get into the flow, which is not always easy. Now combine their research on work modes with their research on flow it has even more of an impact:
For anyone involved in engineering, design, development, writing or similar tasks, flow is a must. These are high-momentum tasks that only go well when you're in flow. Unfortunately, it can't be turned on like a switch, it takes a slow descent into the subject, 15 minutes of more of concentration before the state is locked in. Each time you're interrupted, you require an additional immersion period to get back into flow. During this immersion, you're not really doing work.
This is research I have known about since I read the book so many years ago, but it didn't really sink in until we had an office. As I talked with the team, it became clear that even a slight distraction like someone walking behind them or something happening in their peripheral could break flow.
An open office is full of those distractions to break flow. Sure, people recommend headphones, but they fail to realize that people have more senses than just hearing. Anything from someone bumping into your shared desk/table to people walking around you to that awesome smell of bacon in the kitchen can affect your concentration. Yes, that last one happens regularly in our office. And while headphones can help, not everyone wants to listen to music all day.
It turns out that we are not the only ones. There are some great references to research in the article The Open-Office Trap, as well as some some interesting posts (and comments) from Matt Blodgett, 42 Floors, and Campaign Monitor. In addition, how many times have you heard that someone "gets their best work done from home" or that "there are never enough conference rooms" in an office? These are all side effects of poor productivity in your office, not preferences in work habits.
Why is everyone going toward open offices?
I ask myself this question a lot. My main answers come down to cost and flexibility. If you have ever shopped office furniture, you'll know that there is a huge demand for flexible office structures. As a company grows, the cost of restructuring an office to accommodate more people in different layouts is time consuming and expensive. By having desks in an open plan and telephone rooms for quiet time, the idea is that you can solve the cost and flexibility problems while still offering a quiet place to retreat if needed. From a growth perspective this is smart. If I planned to add 30 employees to our office in the next 12 months I might not have a choice otherwise. It seems like office furniture companies are catching on to this as well. Steelcase, in partnership with Susan Cain, announced a line called "Quiet Spaces" which aims to provide the focused work areas while still offering flexibility. They have some great research in their explanations about open plan environments as well. Here is one that stuck out to me most:
"90% of today's workers say they need quiet, private places in the workplace. Over 40% say they don't have them."
Wildbit HQ
To tackle these problems, we came up with several requirements for our new office:
Each person had to have their own office with enough room for a second person to join them at their desk.
We need space for small breakout meetings for multi-person project work.
Remote employees need to feel included, so each breakout room should include video conferencing.
A dining table for up to 20 people to accommodate chef prepared lunches.
A conference room or lounge (with video conferencing) for up to 20 people for "all hands" meetings.
Open, airy common space to decompress throughout the day.
Space to hold events
The most difficult aspect of meeting these requirements was finding a space. We spent several months with our agent, Jacob Cooper, to find just the right building. We finally settled on a historic building in Old City, just a few blocks from our previous space.
The new office will take the 2nd, 3rd, and 4th floor of a four story building. It's about 10,000 square feet, we have our own private lobby and elevator and enough room to grow. We'll start with 17 private offices, 6 break out rooms, a large conference/lounge room that can also be used for events and a big kitchen and dining area. We're also making a kids play room on the mezzanine and a sound proof room for demos and screencasts.
We worked with our friends at Boxwood Architects to design the layout and aesthetics and couldn't be more excited about it. Below you can see renderings that helped us visualize the office as we worked through ideas.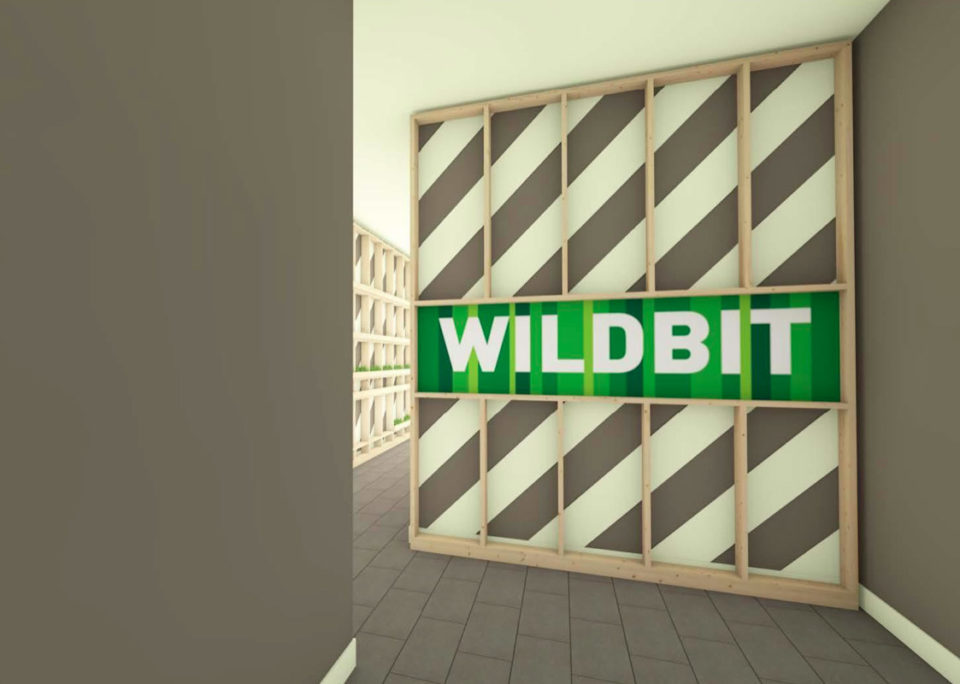 Most of the offices will run along the west side of the building. Each one is about 70 sqft, enough room to keep it from being stuffy while not wasting space. They each feature large windows, glass partitions in the front and huge 8 foot sliding doors. The goal was to offer a quiet room without feeling completely detached or closed in.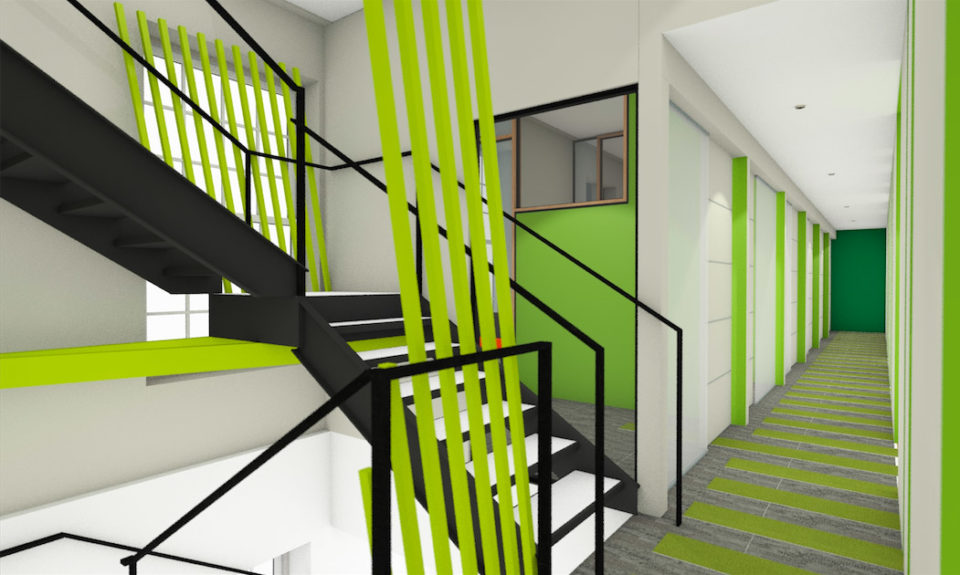 The common area on each floor is on the east side of the building. Each floor will have an open room to relax or hang out as needed. Since we have multiple floors, we are installing a kitchenette on each floor with the larger kitchen and dining area on the 3rd floor.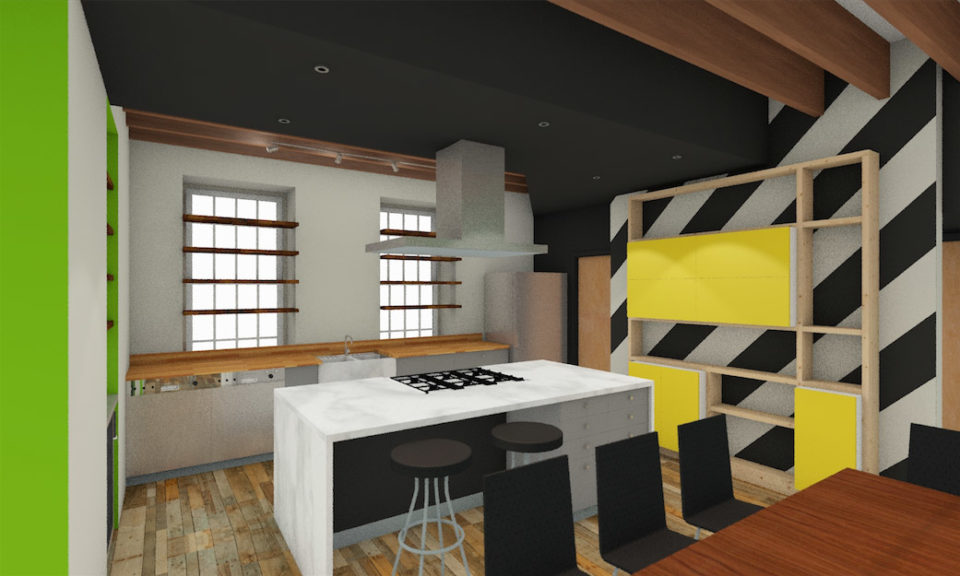 The fourth floor common space, which features a 20 foot ceiling with skylights, will be used for our all hands meetings as well as public events.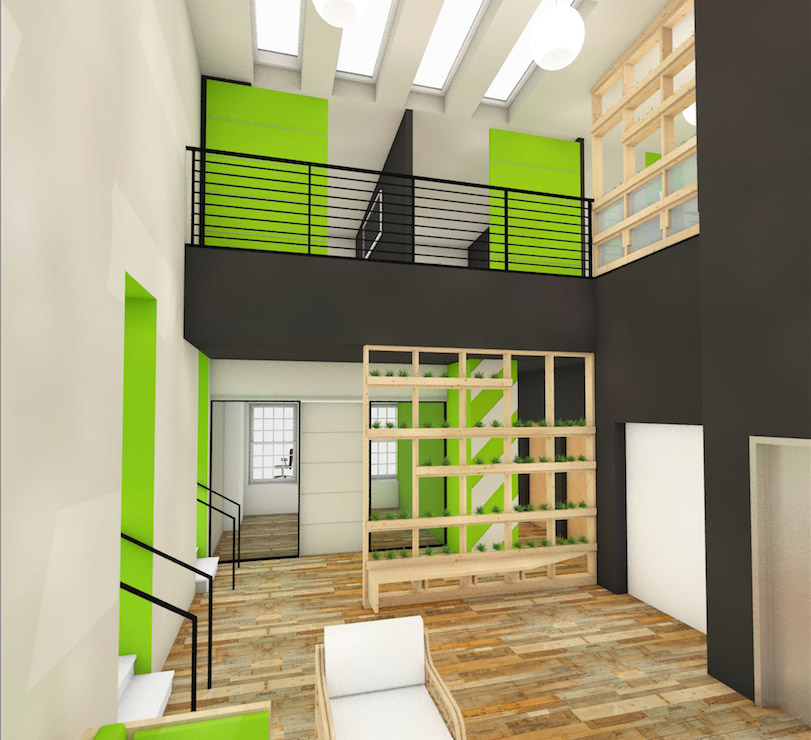 Each floor is connected by an interior steel staircase. We're still working out the details on the actual stair design, but here is one of the concepts.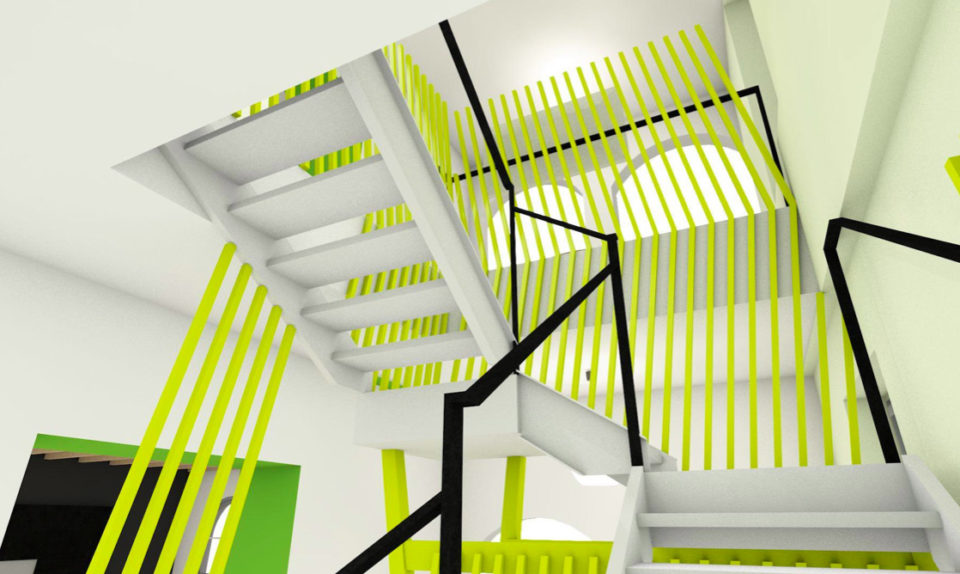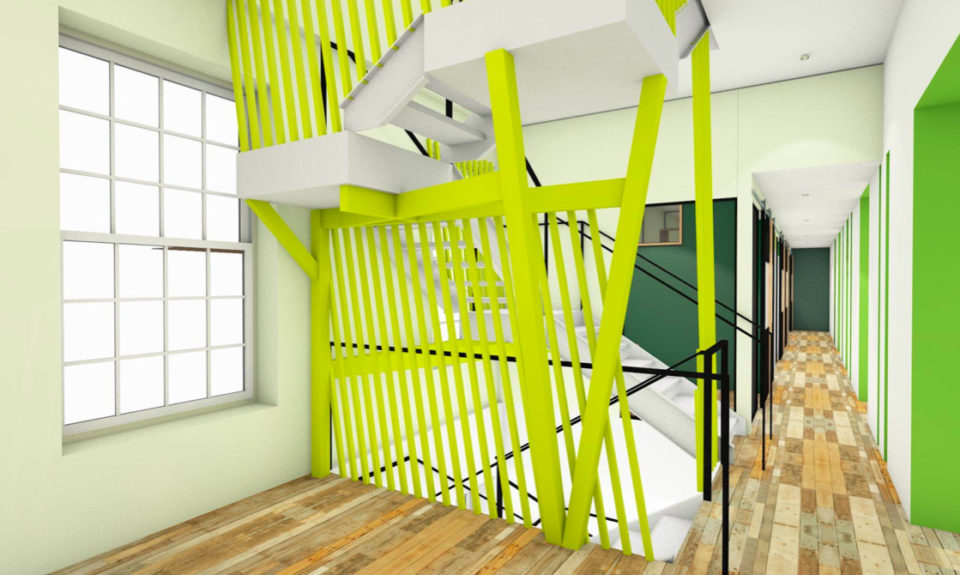 And to give you a general idea of layout, here is the plan for the 4th floor. Each floor is similar where the majority of offices run down the west side of the building and the common area is on the east.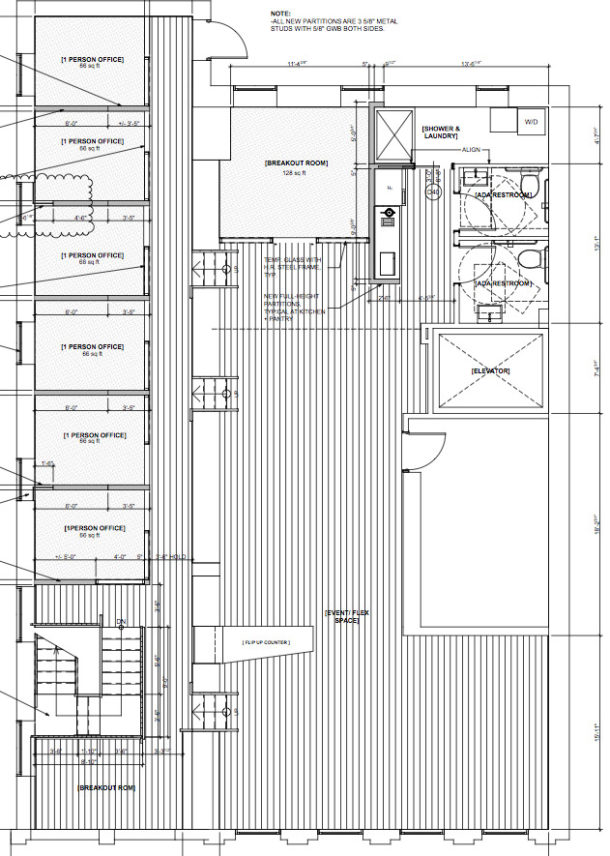 The final work is just around the corner. We'll still have some of the steel work and stairs to do after we move in, but the goal is to be in by early April. Hopefully we can still make that happen. A lot has gone into the planning of the office from LED lighting, to felt material for acoustical control, to the Ikea standing desks. I'll be sure to follow up with more details and real photos as it comes along.
It's been an exciting time for the company and team lately. Along with the office, I can't wait to show everyone what we have in store for 2015.