Postmark has been growing fast. As a start up, we are pretty conservative when it comes to hiring new people until we really understand the need. We launched Postmark back in April and ever since Hristo and the team have been very busy. To give Hristo some relief and to speed up progress, we hired Milan Gornik. Being a virtual team we usually hire based on recommendation. Milan came highly recommended from Igor, our awesome QA guy at Wildbit who lives in Serbia.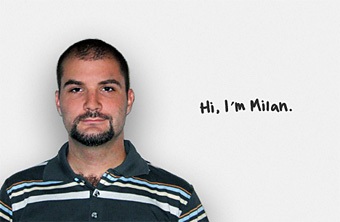 So who is Milan and what is he working on? Milan also lives in Serbia. He has an impressive list of skills from building cross-platform apps in C++, writing an alternative to SQL in LISP and his latest work in Java and .NET. He has his Master's in Software Engineering and also teaches talented high-school students at Petnica Science Center.
Milan has been working with Hristo on the .NET side of Postmark. The main architecture that handles the API, Queueing and delivery is all written in .NET, so having Hristo and Milan team up has been incredible so far. We're getting ready to release an entirely updated server environment which Milan has had a huge part in building.
So, please say hi and welcome Milan to the team. You'll surely see him in support and will hear from him on both the Wildbit and Postmark blog soon. You can also find Milan on Twitter as milan_gornik.