In addition to the social network, we have also been working on the next release of our email marketing service. It is a final release of the current beta version of our product, Newsberry. Newsberry helps people create, send, and manage rich email marketing campaigns. The system offers enterprise level delivery rates and features at small business prices (avg. $7/thousand emails sent).
The new system will feature many upgrades in both functionality and usability including multiple lists, targeted campaigns, template management, A/B campaigns and more. Here is a screen shot tour showing what we have been up to.
The design and strategy for launching a web-based service is far from easy. We utilized quick design iterations, prioritized feature sets, and a small team approach to help us along. The system is set to launch in the next few months. You can be sure that we will incorporate the right blend of AJAX and web services to improve both the interaction and reliability of the application.
Dashboard
The new system will feature a quick start view providing access to all lists and providing an overview of the activity within an account.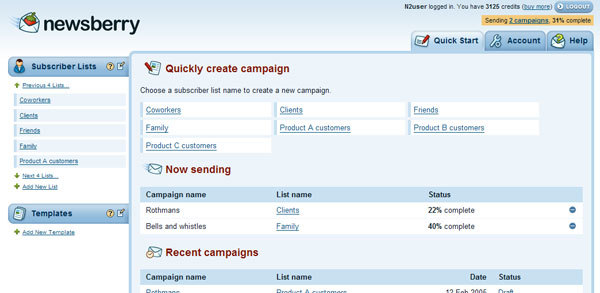 Templates
A new advanced template editing tool was created allowing customers to easily edit reusable design templates for campaigns. The templates make it easy to edit CSS styles and layout with the ability to dig into the HTML code if needed.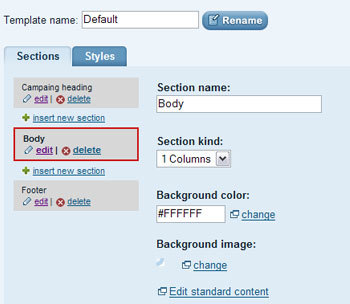 Targeted Lists
We are excited to launch a long awaited feature. Customers will be able to create targeted sub-lists based on campaign activity (opened email, clicked links) or demographic information. These sub-lists can then be used to send targeted marketing email campaigns.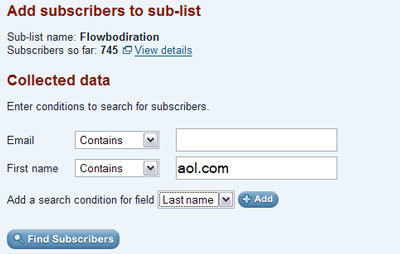 Reports
We have upgraded the reporting tools significantly compared to the current version. We made a firm decision not to include subscriber-based statistics. It became obvious that most people want to see reports on a campaign basis instead of viewing statistics on who specifically opened or clicked on an email. This allowed us to "trim the fat" on both the design and implementation. We preserved our "view in context" reporting, which allows one to view the past campaign content with the number of link clicks embedded.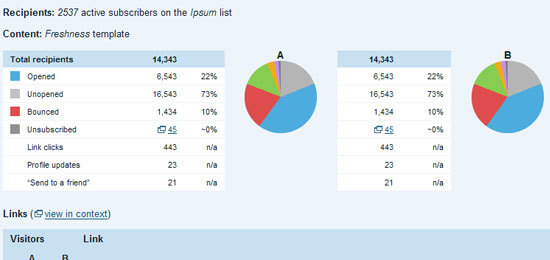 Help System
The biggest oversight was the amount of work we would have to put into the help system. We thought about the possibility of using a blog for the help system, but just could not get it to fit the model. The help system will be separate, but cross-referenced from the application.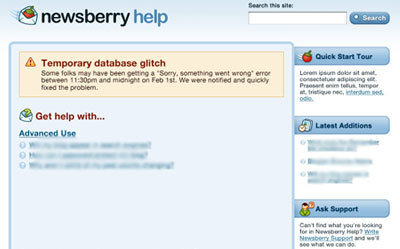 One Click Delete
We added a new interface tool that allows customers to delete lists or content in one click. A list is automatically placed in a delete queue for 30 days. It can be permanently deleted at any time, but due to the sensitive nature of deleting subscriber lists we added the extra precaution. This also helped eliminate confirmation notices when deleting content.

Let us know what you think.