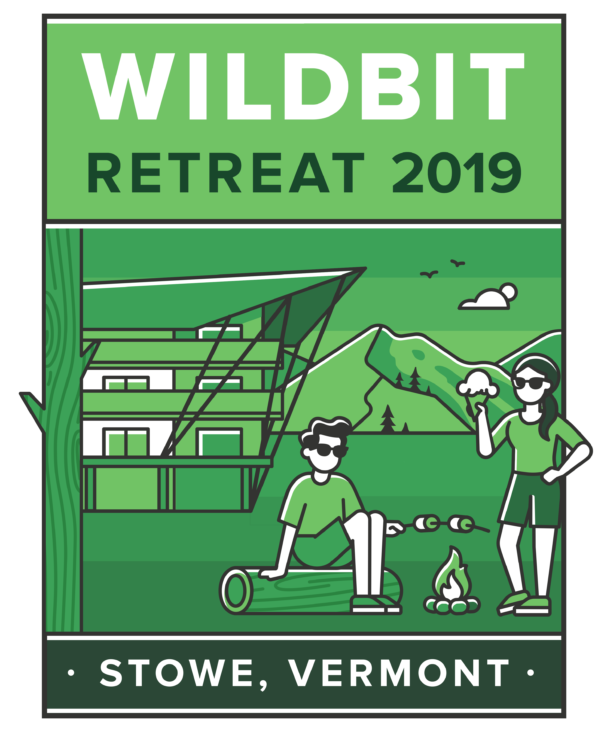 Retreats have been a staple in Wildbit's culture for the majority of its existence and this year we went on #14. As a remote-first team, it's the one time a year we all get together in the same room to hash out planning for the team and the products. We also get in plenty of personal time to connect over mutual hobbies, family stories, and recent adventures. It's exhilarating and exhausting, business and pleasure, reflective and progressive. As the (self-dubbed) "friendly, neighborhood retreat captain", I manage all things logistics for the trip. I do a fair share of research based on what others have done for their companies so I'm happy to contribute my experiences to the online conversation.
This was my second go at planning a team retreat — you can read about my perspective of the 2018 trip here. I have to say planning felt much calmer and easier for me this year after having one under my belt. I still lived in my planning spreadsheet, overcommunicated with the vendors, and gave the team more details than they cared for, but I had a clearer mindset of the outcomes. Plus, I learned last year no matter how much prep I did in advance, things will still go wrong. I think I was more accepting this year that I had to do my best job planning and roll with the things that go awry.
First thing I did was collect dates that work for the entire team by collecting the dates that did not work. We don't schedule our retreat on the same dates each year so I have to see what everyone has going on in the April/May/June timeframe. By process of elimination, we found one week that worked for everyone this year. It's nice to have some more flexibility on which week we go but we were able to nail it down enough in advance that it worked for everyone. While I was collecting dates, I was also having the conversation with Thi and Natalie about budget for the trip. It has worked the past couple years to be about $2,000 USD/person and something we shoot to stay around. The breakdown is about 30% for flights, 50% for lodging and meals, and the remaining 20% for miscellaneous costs (ground transportation, activities, etc.) Where people are traveling from will certainly impact the cost of flights but it usually evens out between the entire group.
Like last year, I worked with Justin from HelmsBriscoe to find the best spot for our team. Looking back at my first email to him for 2019 planning, I got the ball rolling 8 months out. This was 3 months after we returned from last year's trip! I mentioned we were looking to do the United States again and stay around the East Coast. Since we are spread across the globe from British Columbia, Canada to Bucharest, Romania — about 5,500 miles — it has been helpful to stick to a somewhat "central" location. Justin did his magic (so many hours of work but he makes it so easy for me it feels like magic on my end) and we landed on the The Stowehof in Stowe, Vermont.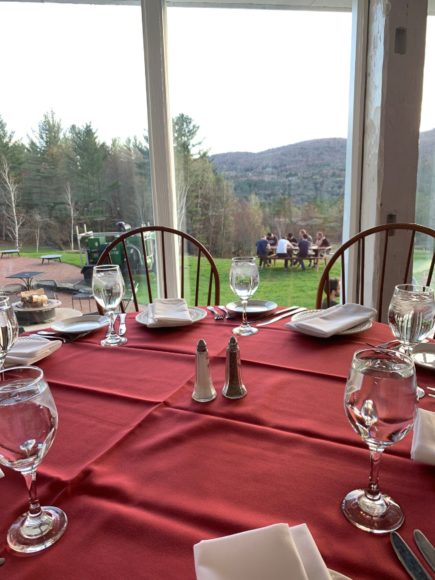 Last year, instead of renting a large home like we have in the past, we gave resort-life a try. It worked out really well for us so we went that route again this year. This includes things like a fully-staffed kitchen, bar, housekeeping, and on-site activities for our team. With the full buyout we had the run of the place to have meetings in the main lobby area and found random cubbies for smaller break out sessions. Our meals were prepared to accommodate all our varying dietary needs (vegetarian, vegan, keto, etc.) and served on the schedule that worked best for us. It's also nice to not have to deal with taking out the trash and running/emptying the dishwasher multiple times a day.

We did try a few new things this year. Due to the arrangement of the buyout we were able to give everyone their own room. While the size of the venue and budget play a large role in sorting out how many rooms we need, it's pretty cool we were able to work it out that no one had to share. A bunch of folks responded in the post-retreat survey they loved being able to go back to their room for alone time and felt rejuvenated when getting back with the group. Plus, who doesn't like just having freedom in their own personal space? Our team is 75% introverts so we know it's important to recognize the balance of meetings, togetherness, and recharging while on a week-long business trip. Even as an extrovert myself, I found I was looking forward to those intermittent opportunities to go back to my room and turn my brain off in the middle of the day.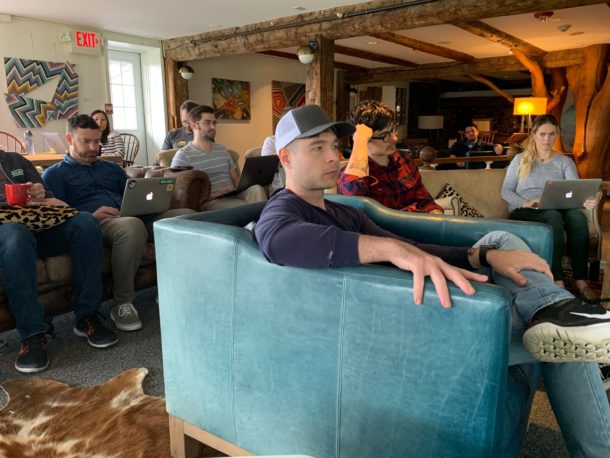 Another new thing we did was hear from someone outside of Wildbit for some related business perspective. We usually try to incorporate a field trip during the week to shake things up. This year we popped over to the Ben & Jerry's Factory for a tour and tasting of their finest pints fresh from the production line. We were also able to setup a chat with their Grand Poobah of Public Relations, Sean Greenwood. While we are navigating some exciting things for the future of Wildbit, it was so refreshing and relevant to hear Sean speak of the things Ben & Jerry's stand for. Learning how they prioritize social impact as part of their double bottom line, we left the factory feeling inspired and a little giddy from all the ice cream. It was a memorable visit and the team was overwhelmingly impressed with the correlation between their mission and what we're exploring. We made a pit stop on the way back to the resort at Vermont Artisan Coffee & Tea Co. to counteract the sugar with some caffeine. Tom kindly gave us a tour of the roastery and fueled us up for the rest of the day.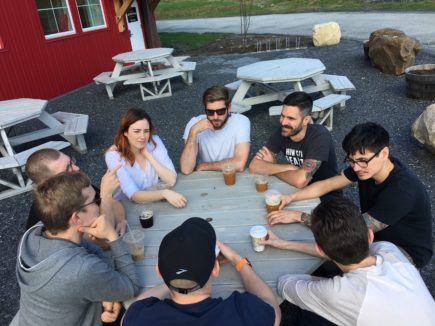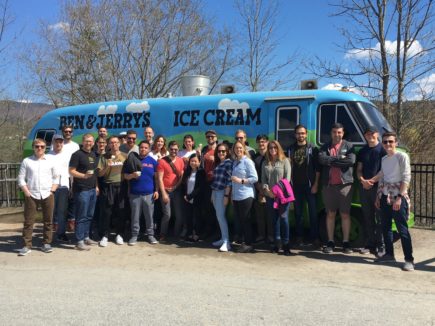 A few other things that were unique to this year's trip:
The past few years were spent in warmer climates so it was different to head somewhere with some milder weather. The days were nice enough to spend outside but would get chilly enough to have the fire pit going in the evening. The mountain scenery was also very beautiful and added to the "lodge" experience.
We had 6 new faces attend retreat this year (24% of the team) so it was on my radar to make sure they felt included, comfortable, and knew what to expect. It is a unique trip and can certainly be overwhelming to process all the energy going around. We have a brief FAQ in our handbook about retreats and we realized I should blow that out to a more detailed framework for everyone to reference, whether they are new or a reminder of why/how/where we do retreats.
On one of the first retreat trips, a much younger Wildbit team engaged in a game of flip cup. This was a first for most of the team at that time and became a fun tradition over the years. This year we decided to switch things up — I split everyone into teams (trying to diversify between products, departments, tenure, and geographic location) for a picture scavenger hunt around the property. Complete with a bonus lightning round, everyone was a winner! (but I really had to score the answers and announce the winners because we are way too competitive for "participation" recognition 😉)
We ambitiously purchased two 2,000-piece puzzles for the trip — one box was never opened and the other one still haunts some of us.
Being able to rely on other teams to take care of our team is a major consideration for me when planning so I like to sing the praises of those who know how to get it done. Ryan, Melissa, Kyle, Alyssa and everyone at the Stowehof were prepared, kind, and diligent in making our trip go smoothly. They were ready for us before we arrived and truly made us feel at home until the last of us rolled out. We had a lot of detailed communication for months leading up to our trip and they fully upheld their end of the deal. Another team that delivered for us (literally) was Fleet Transportation. Ashley impressively coordinated all the pickups and dropoffs with me in advance. As expected, we had a few hiccups with flights and her team rolled with the changes and made sure we all got where we needed to be. I was a little uneasy scheduling a 3:30am pickup for 3 of our guys but Steve, Michael, and Ethan were reliable, prompt, and super friendly for all of our travels that week. I almost can't believe how fluid everything went this year so I have to give credit to the people that helped make it happen!
So how did it all breakdown for 2019? 6 nights for 25 team members came to:
Flights = $16,390
Food and Beverage = $15,679
Lodging = $12,683
Ground Transportation = $2,809
Everything else = $1,698 (tips, activities, items purchased and shipped in advance, meal reimbursements at airport, and Uber to/from home airports)
Total = $49,260 or $1,970/person
I do find by getting everything arranged in advance, I am able to fully participate in the week with the rest of the team. Once everyone lands, the week runs itself and I am basically in troubleshooting mode. Then I hold my breath for everyone to make it home with minimal airline issues. I really can't believe how quickly the week goes by leaving me partially relieved and mostly saddened. Next year will be Wildbit's 20th Birthday so it won't be long before I dive into what I expect to be a milestone trip!