We released a great new feature for Newsberry: Highrise integration.
Highrise is an online contact manager and address book, which keeps contact info centralized, sharable, and safe online. By integrating with Newsberry, you can synchronize contacts between Newsberry and Highrise. This is the first integration tool for Newsberry and we plan to release more in the near future.
How does it work?
By integrating with Highrise, we offer:
Automatic updates of name, email, and phone number in Highrise to your Newsberry list
Posting a note in each Highrise contact when a campaign is sent.
In Newsberry we provide two ways of importing subscribers:
Importing contacts from csv and excel files
Manual import
Now, if you have a Highrise account, you can import subscribers by integrating with Highrise. Not only can intergrate contacts, but you can do it for every list that you have in your Newsberry account. Every list can be integrated with a different Highrise account.
You don't need to worry whether your contact list in Newsberry contains all the contacts you have in your Highrise account. If you add, update or delete contacts in your Highrise account, you will notice the same changes in Newsberry. Newsberry will synchronize the contacts between Highrise and Newsberry for you automatically.
You can add contacts from different sources to your account (manually, by importing through csv, xls files or by Highrise integration), and all of them will coexist in your list.
Keep a record of it
One more cool feature about Highrise integration is that we post a note to your Highrise contacts whenever you send a campaign.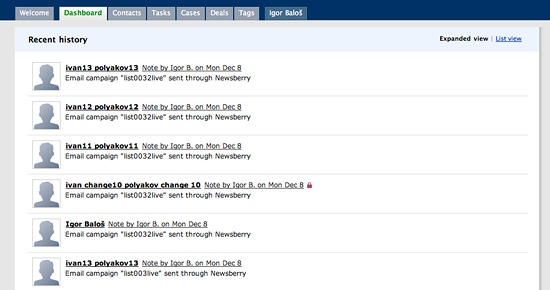 Give it a try!

The feature is available for Free and Paid Newsberry accounts. To give a test run, sign up for a Newsberry account. To learn more, read the Highrise integration article in Newsberry's help section.