After integrating Beanstalk with Harvest, we released one more integration for Beanstalk: Freckle. Freckle is a thoughtful and beautiful web-based time tracking application built for small business.
How does it work?
In order to integrate Freckle with Beanstalk, you must first setup the integration settings within your repository. All you need to do is select the repository on which you would like to use integration with your Freckle account, then enter your Freckle account URL and Auth token. Next step would be to select a project from your Freckle account in which you would like to log time and activate integration.
That's it! The integration with Freckle is completed and you're ready to track time with every commit. The detailed steps on how to set up the integration can be found on our Freckle integration help page.
Once you setup integration with Beanstalk and Freckle, you can add tags to your commit comments that will post log entries into your time sheet. For example:
Fixed layout on login page, login, layout fix [f:70min]
You will get an entry which you can see on the dashboard of your Freckle account, under "Your Recent Entries". The entry would look like this: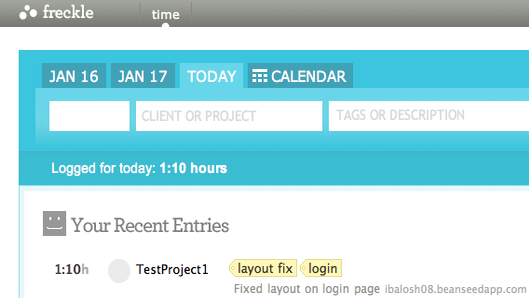 For more information about Freckle integration with Beanstalk please visit our help page. Freckle integration with Beanstalk is available for all plans on Beanstalk.