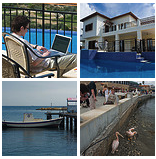 This week we returned from our week long retreat in Cyprus. The fact that we are a completely virtual team, in three countries, does not give us a lot of face time. Aside from Skype, the typical strategy sessions usually takes place in a text-driven environment such as Campfire chat or through our Basecamp posts. This retreat really helped us relax, reward ourselves for the recent hard work, and take care of the high level strategy for our processes and communication.
I can speak for all of us and say that the trip was amazing. We had a great time and made amazing progress on improving our development process. The main topics revolved around our automated builds, improved unit testing, setting up continuous integration in our projects, and hiring some new talent. The progress was very exciting and we are looking forward to executing the ideas.
Have a look at the pictures, shot by Andrew.