Okay, okay. You've seen the newscasts. You've read the articles. You've listened to the podcasts. Four-day workweeks (4.D.W.W.) are here, and you want in.

But as you start to mull over the idea of moving your teams to a 32-hour, 4-day workweek, you might realize there's one essential part of your day-to-day that keeps moving… keeps asking… keeps needing… every single day of the workweek: your customers.

Unlike other areas of your business that can be reshaped and rescheduled to fit within the freeingly limited confines of a 32-hour workweek, you can't expect customers to hold off on having questions or experiencing issues with your product one day less than normal.
By far, the most commonly asked question we receive at Wildbit is how we continue to provide stellar support to our customers while every person on the team only works 32 hours a week. Does that mean no more customer support on Friday? Do customers notice? How is it even possible?

Well friends, let me help you answer those questions. Hey, what's up? I'm Jordan, a customer success agent at Postmark and doughnut superfan, and I'm going to share my experience plus some insight on how other 4.D.W.W. businesses handle support, so you (and your customers) can fully enjoy the 32-hour workweek without sacrificing customer support.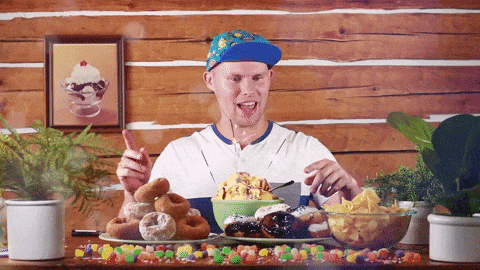 A bit of background on our 4-day workweek
Let's start from why you'd want to try a 4-day workweek in the first place.
Here at Wildbit, we started a 4-day workweek experiment that never stopped back in 2017. The goal was for us to work more meaningfully and thoughtfully, cutting out unnecessary practices, distractions, and busy work, and building a happier and healthier team in the process.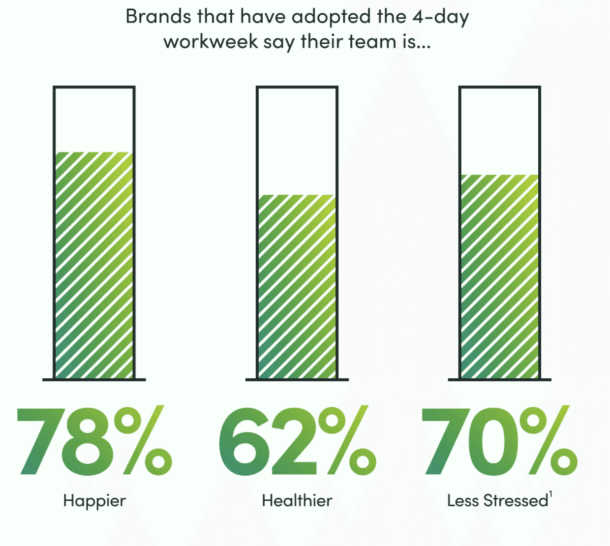 We accomplish this by having (almost) everyone work Monday through Thursday, with a certain number of hours dedicated to deep work each day. Having every Friday off allows the team to go out and enjoy long, three-day weekends and come back to work on Mondays energized and ready to go. Some of us use that extra day off to work on personal projects, do laundry, or catch up on some work we didn't get to earlier in the week.

Support is the outlier to that practice, because it would be unfair to ask customers to hold off on their questions and issues each Friday. As glorious as it is for our team during the 3-day weekends, it would be a torturous waiting period for customers in need.
How to ensure Monday to Friday coverage with a 4-day workweek
If you're familiar with our Postmark support hours, you'll note that we offer support between 3am and 7pm EST, Monday to Friday:


This schedule was put in place long before we started the four-day workweek, with a lean team of customer success agents all over the world (from the corny fields of Iowa to the land of 40 shades of green) to help ensure we're available as much as possible for our customers.
But once Wildbit moved to a four-day workweek with everyone on the team able to take Friday off, we knew we couldn't ask our customers to do the same. So we decided that the best way forward would be to have a few support agents work Tuesday to Friday. Those few support agents still get a three-day weekend, enjoying each Monday off instead.
This way, we were able to accomplish three things at once:
1) Keep our traditional support hours as we shifted into a 32-hour workweek,
2) Give everyone three glorious days off in a row, and the real kicker
3) Make sure our customers have the exact same support experience whether they write in on Monday or Friday.
Does this mean then that these few support folks are the only line of defense if the product runs into an issue on a Friday? Are you nuts? No way! We have procedures in place that make it incredibly easy for our Friday crew to ping the on-call developers and other support agents whenever needed, and without the worry of bothering someone during their Friday off.
So whether it's an issue with a product, a support question in need of a second pair of eyes, or just asking for a break for a few hours, we've set things up so there's always an easy way to get in touch with the rest of the team.

When we reached out to a handful of other cool companies who practice four-day workweeks, we found that the fine folks at Piktochart follow a similar schedule:


"Coverage-wise, our CS team covers from Mondays-Fridays. We have 2 team members covering from Mondays-Thursdays while another 2 team members covering Tuesdays-Fridays.
We also set clear expectations to our users about our working hours and response time e.g. Mondays-Fridays, 8am-6pm CT, typically reply within a few hours. Sometimes, when users see a reply within a few minutes, they get pleasantly surprised and feel delighted!"

How to keep your skeleton support crew happy
The next common 4.D.W.W related question we get is: what is working on Friday like for the skeleton support crew—those sad, lonely souls who have to work support while everyone else on the team is off enjoying the beach, seeing a Star War, or using the day to just Netflix and chill?
Well, being a member of the "Skeleton Support Crew" here at Wildbit, one of the Tuesday through Fridayers, I can happily admit that the arrangement works perfectly for me and my lifestyle.
I've found those quiet Fridays to be a real treat. If you've ever worked in an office building, you've likely experienced the child-like wonder of running sock-footed through the cubicles while no one else was there, the harsh overhead fluorescent lights turned down to a soft glow, and the eerie silence of a large empty space only occasionally interrupted by the janitorial staff vacuuming out in the hall (..or was it just me?)
I find the same sense of wonder working with a small crew on Fridays, even remotely. It's just me, myself, and the customers, and I can confidently say I provide some of my best support on these quiet days.
Of course, what works for me might not work for you; and the Skeleton Support Crew approach could be disastrous to a certain type of person or support team set up. Our Buffer buds recently published a great post on how they serve their customers on a 4.D.W.W schedule, and even created a nifty lil' table that shows how many support agents are working each day, including weekends.



"We set up our team schedule so that some teammates are online every day, including Saturdays and Sundays, while ensuring that every teammate is able to have three consecutive days off each week."
The real takeaway is to first listen to your team and ask what they think will work the best:
How will they be able to provide the best support?
Are people willing to work by themselves with no direction for an entire day?
Or does your team thrive best when working together in groups with constant communication to keep on track?
Does everyone want to do a rotating schedule to share the load, or would some agents happily work on the skeleton crew?


There is no right or wrong answer, as long as you're meeting the needs of your team.


For example, the amazingly awesome folks at The Wanderlust Group follow a rotational schedule that allows their support team to flexibly swap shifts as they see fit:


"While the company operates on a four-day workweek, our customers are out working on the docks every day. In order to support them, our Support Team operates on a rotational basis to provide coverage 7 days a week. This schedule allows our agents to be flexible with their days off and swap shifts as needed with other agents.
The time spent away from the phones and support tickets allows them the time needed to disconnect and come back to work energized to support all of our customers' needs and requests. The change to the four-day workweek has helped to prevent agent burnout and has led to an increase in team productivity YoY."

Whether it's 3-day weekends, Wednesdays off for half the team, or a rotating schedule for working Fridays, the only thing that matters is that your team is happy and comfortable with the setup. Once that's figured out, you can then focus on how to best help your customers within the parameters you've set up.
Focusing on deep work to elevate your support team
Implementing a 32-hour 4.D.W.W. does not mean your support team should now have to work X amount harder or answer X more tickets. Pfft! Don't be gross. It's just about working smarter.
For example, we here at Wildbit prescribe a good dose of deep work (don't know what deep work is? Check out this awesome blog post by our CEO, Natalie): some dedicated time each week completely outside of the support queue to work on… well, just about anything you like! The time is yours to settle down and focus on a task or project that removes you from the monotony of answering ticket after ticket.
For example, I've been able to use my deep work days to create a slew of videos that range from authenticating domains, announcing huge product updates, working on a comic about email, and introducing our Postmark Office Hours. The team has also built internal training and tips for our support friends, and created monthly support reports where the whole company can see how well we're supporting our customers.
Each member on our customer success team gets 8 hours each four-day week to focus on something that betters us, our team, and/or our customers. Some of us take a full day off from answering tickets to focus on such deep work, while others split that time up across several days. However we do it, the goal is to remove ourselves from distractions (answering tickets, Slack, answering company emails, etc) and just dig into some work.
Not only does this help prevent burnout by only focusing on answering tickets, but deep work projects elevate us to be well above a typical support team. We're a customer success team, who get some pretty gosh-deng rad stuff done while still answering tickets on the side.
So there's a choice. Focus on just chugging away at that huge ol' queue that never ends, or set your support team up with a schedule that allows them to get out of the queue and work on some proactive, long-lasting projects that in the end can help your customers better, and get you closer to that elusive inbox zero!
Helping customers help themselves
Something a support team should always aim for is implementing ways for customers to better help themselves (and this is actually true regardless of how long your team's workweek is).
So how do we help our customers help themselves? We use some of our deep work time towards building and maintaining our Postmark Support Center, where we have hundreds of well-written support articles, blog posts, and guides that cover the whole kit and kaboodle when it comes to using Postmark for sending email. This is all searchable within the site or by using the handy green help popup tool right within a Postmark account. It's too easy not to use!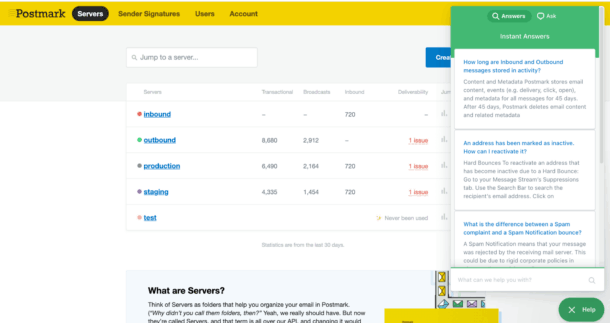 On top of that, we have 30+ eye-popping support videos and webinars, incredibly in-depth API documentation, wikis for each of our official API libraries, and so much more. All content that we make readily available, plump-full of information that we are constantly updating.

All of this helps our customers get answers to their questions faster. This helps keep our support queues lighter, giving us more time to provide better, meaningful help to our support tickets... which in turn boosts our CSAT scores, provides us in support with a more meaningful job, and frees up lots more time to work on non-queue related deep work.

The more resources for customer self-help → the less tickets in your support queues → the happier your support team → the more meaningful work is accomplished. Get it?
We've had Postmark customers who have been with us for years who have never had to write into support because we make sure all the information they need is right there within their grasp.
Our friends at Volt HQ have a similar experience:


"Since transitioning to a 4-day workweek, our support team has maintained a 4.7-hour median first reply time (mFRT) to our customers, and a customer satisfaction rating (CSAT) of 96%. Our mFRT prior to the transition was also around 4 hours with an average CSAT of 95%, so to our customers, we never skipped a beat.
We learned from our customers early on that they tend to prefer self-help resources before talking to us directly, so we have continued to leverage our support CRM's automation tools to create a more robust self-help experience for customers. And truth be told, we do still step in on occasion for that 5th day, especially around new features and product launches, but that's just the nature of Customer Support."

Using async tools to stay on the same page
Okay. I'll admit it: being off Mondays while the rest of the team is working… I sometimes get the FOMO. What adventures or opportunities am I missing out on? What inside jokes am I not being a part of?
But those feelings are pretty rare, because Wildbit has done such a great job focusing on a number of tools to increase team communication and bonding, while making sure said tools don't cross the lines into distracting unnecessities.
Take Slack for example. At past jobs, the support Slack channel could quickly accumulate hundreds of thousands of posts on any given day, with conversations ranging from best guac recipes to heated debates about personal opinions (hot dogs are just hot dogs, yo!). This constant stream of jokes and timely gifs could be fun but it didn't really help us do our jobs any better. Usually, it made us more distracted—the mortal enemy to true deep work.

Compare the above example to Wildbit's support Slack channel, which may have two to three posts… a day. This limited communication over Slack may seem a bit sterile and rigid, but I've grown to love and appreciate it so much more. Not only does this lend to a better environment for deep work, but it keeps the communication lines open for when discussions are truly needed, and helps such conversations be easily found by those on the team who were not present when they first took place.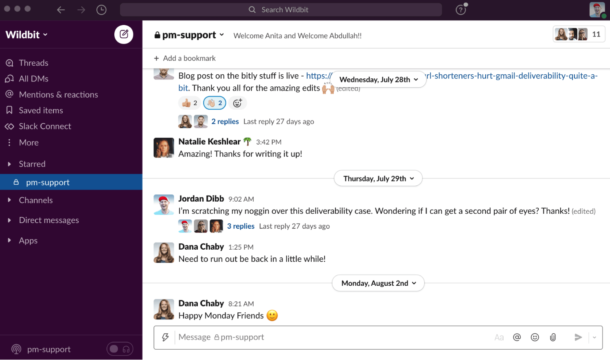 We approach internal documentation in a very similar way. Using tools like Basecamp, Notion, and Paper we post personal and professional updates and achievements in a way where everyone is able to read and digest the information at their own leisure. We're able to keep a pulse on our workmates, updates to our products, and ongoing support-related conversations whether we're working on any given Monday or not.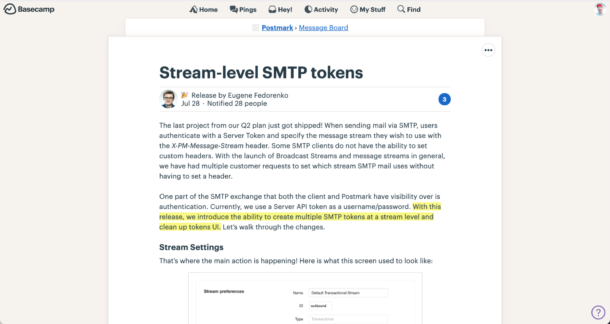 This focus on asynchronous communication is key to our productivity and deep work, and we've heard from the peeps at Buffer who share a similar view:

"We also put even more focus on asynchronous communication, comprehensive documentation, and setting specific and clear individual goals to support the team to provide great customer support while working 4-days a week."
Juliet Chen—Senior Customer Advocate at Buffer

Are you still curious?
So there you have it, my friends. Hopefully, this has given you a small glimpse of what's possible with your support team while implementing a 32-hour workweek.
But this is just one way of many, and to be honest I'm pretty keen on learning more about how other customer success support teams manage the 4.D.W.W. So please Tweet at us what has (or hasn't) been working for you and your team as you minimize work hours and maximize output. And for those of you who are still skeptical or have more questions, heck ask away!
Give us a Tweet or contact our customer success team directly and got deng it, we'll get you an answer faster than a greased up bunny on a ski slope.