Why should you implement a 4-day workweek? Because it makes your team happier and healthier, helps you recruit and retain great talent, and has a positive impact on your bottom line. Here are the stats that prove it.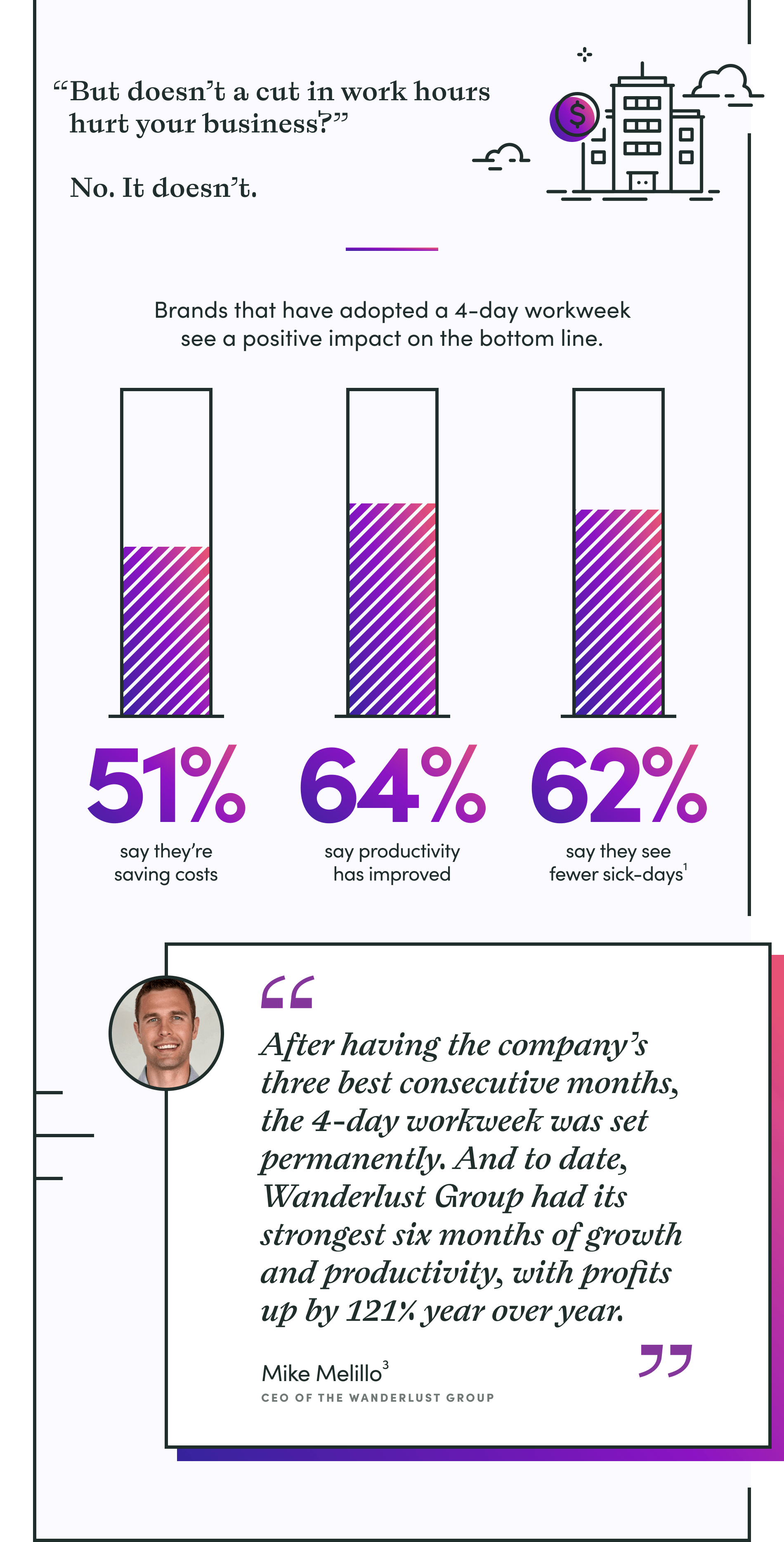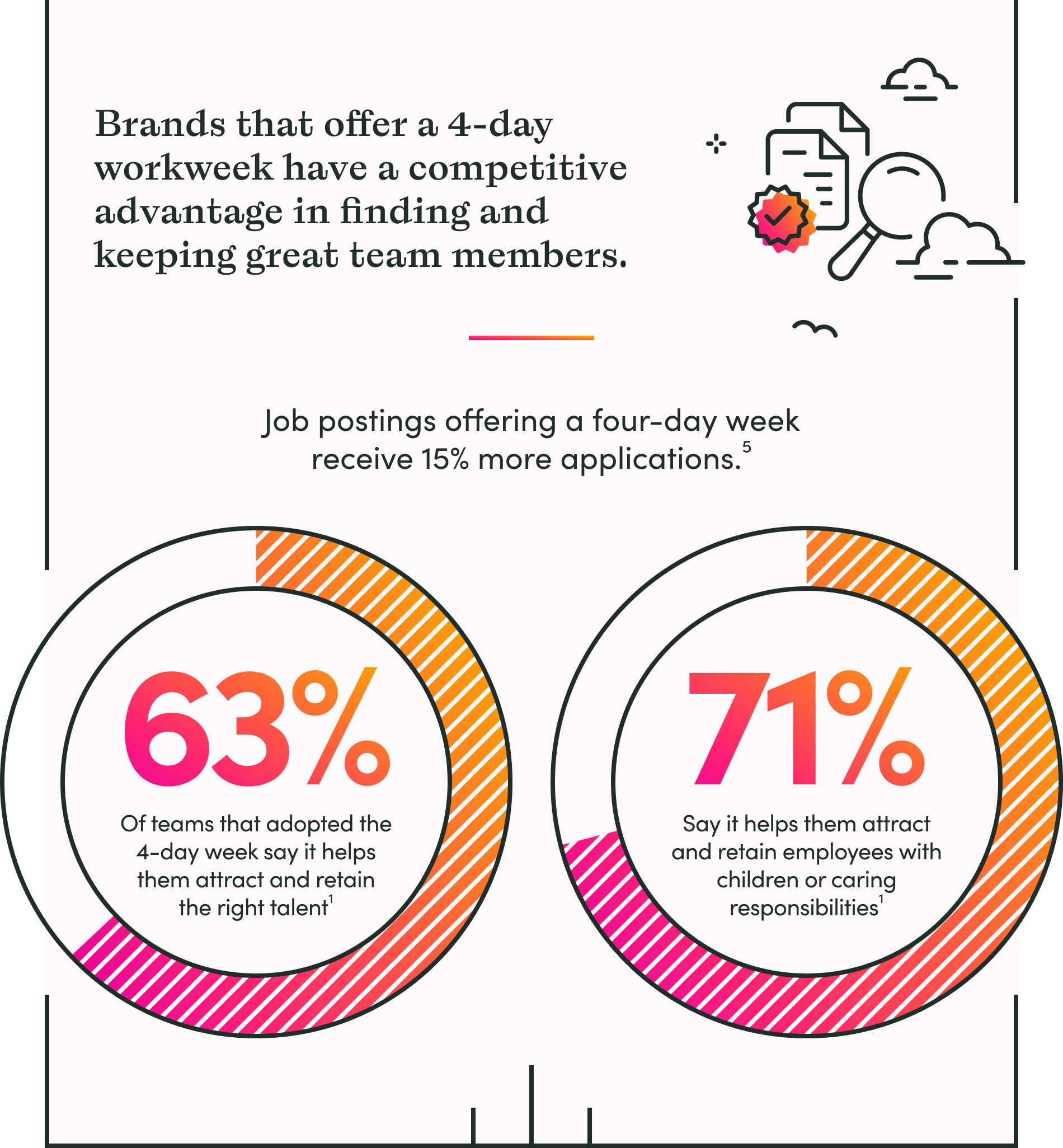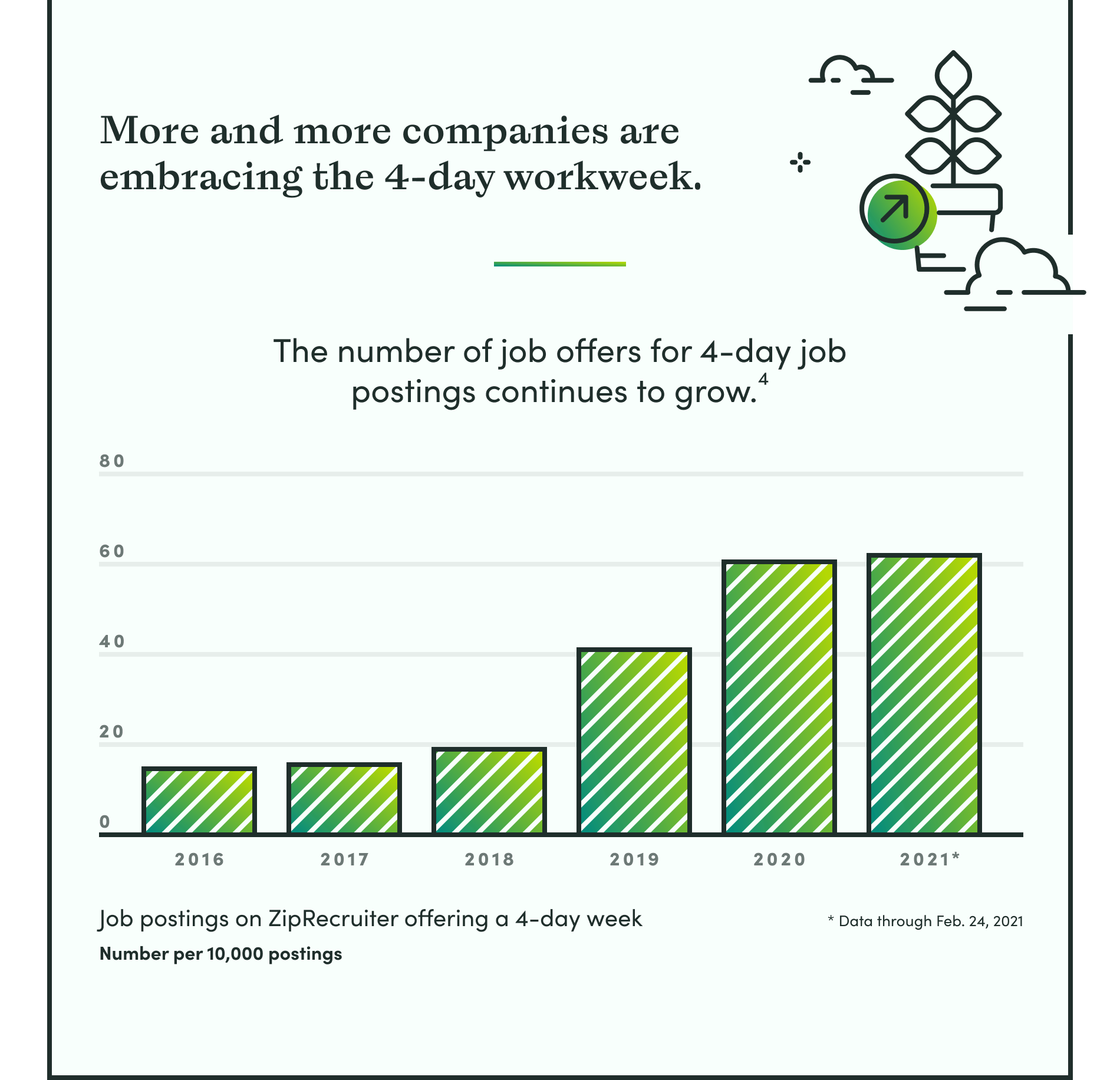 Transcript
The rise of the 4-day workweek
The stats that prove that adopting a 4-day workweek is paying off—for companies and their employees.

Businesses should be designed to support human beings—and the 4-day workweek is a powerful way to improve your team's wellbeing.
Brands that have adopted the 4-day workweek say their team is...
"Switching to a 4-day week helped improve our employees' lives and, consequently, their job satisfaction."
Dan Giuliani, CEO at Volt Athletics
"We've always wanted to maximize our team's ability to have a life outside of work."
Natalie Nagele, CEO at Wildbit
"But doesn't a cut in work hours hurt your business?"
No. It doesn't.
Brands that have adopted a 4-day workweek see a positive impact on the bottom line.
"After having the company's three best consecutive months, the 4-day workweek was set permanently. And to date, Wanderlust Group had its strongest six months of growth and productivity, with profits up by 121% year over year." Mike Melillo, CEO of the Wanderlust Group
Brands that offer a 4-day workweek have a competitive advantage in finding and keeping great team members.
Job postings offering a four-day week receive 15% more applications
63% say it helps them attract and retain the right talent
71% say it helps them attract and retain employees with children or caring responsibilities
More and more companies are embracing the 4-day workweek.
The number of job offers for 4-day job postings continues to grow.
In 2016, there were less than 20 roles offering a 4-day workweek per 10,000 postings.
In 2020, that number had grown to 60.
In the first quarter of 2021, we've already seen >60 4-day workweek roles per 10,000 listings.
Who are the #peoplefirst companies who run on a 4-day schedule today?
Brand

Administrate

Cockroach Labs

MailPoet

Wildbit

IIH Nordic

The Mix

Synergy Vision

Planio

UpBuild

Welcome to the Jungle

Versa

MRL Recruiting

The Chrysalis Crew

Elektra Lightning Design

Volt Athletics

Uncharted

Awin

Buffer

Wanderlust Group

1SecondEveryDay

Piktochart

TGW Studio

Stoked

Target Publishing

Gracefruit

4-day week since

2015

2016

2016

2017

2017

2017

2018

2018

2018

2019

2019

2019

2019

2019

2020

2020

2020

2020

2020

2020

2020

2020

2020

2020

2020
For an up-to-date list of companies offering a 4-day week, check out our company directory.
Is your team ready to embrace a 4-day workweek?
Learn more about how Wildbit and other people-first businesses adopted a 4-day workweek and what we learned along the way.
Learn more about the 4-day week →
Special thanks to Chase Carpenter for the beautiful artwork for this infographic. 💚