For the last two years we've been on a local hiring streak and bringing some of our remote team (Ilya, Dima, Eugene) to Philadelphia. We love having everyone under the same roof. Two months ago when we started looking for a new designer, we were determined to find someone local. While we met some great people, the role was extremely hard to fill. Not only were we looking for a talented UI and visual designer, but the right person also needed to code their concepts in HTML, CSS and JS. We finally decided to open up the position to anyone in the world. We've had remote team members for 13 years, so adding one more was not intimidating for us at all.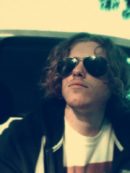 After a difficult search, I'm extremely happy to welcome Alvaro to the team — based in Uruguay. I knew as soon as I received his email that he would be a good fit with the team. He's worked on some pretty awesome projects, including the Androidify app for Google.

Alvaro will join Eugene in creating the concepts, interfaces and front-end code for Postmark, Beanstalk and our labs projects. He's already been working on some great features in Beanstalk, as well as a new t-shirt design.
So please welcome Alvaro to the team. You'll be sure to hear a lot from him in the coming months.